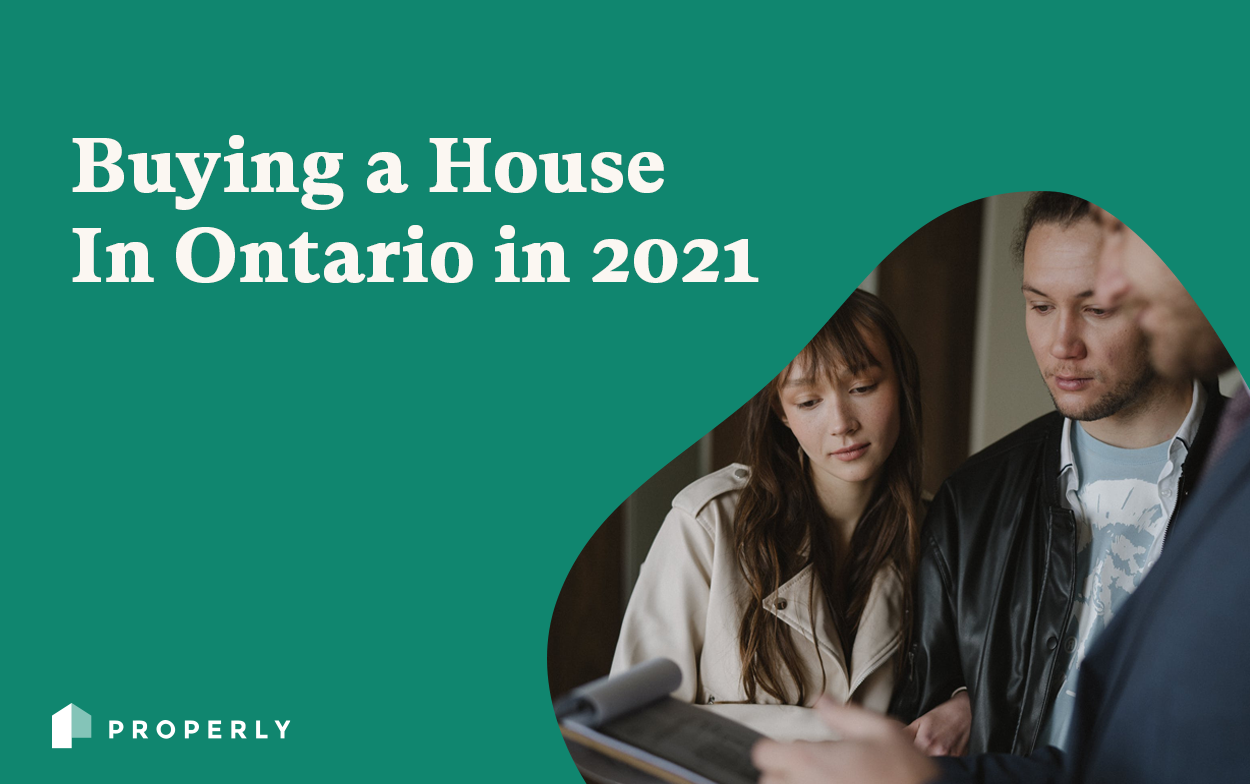 Buying A House in Ontario in 2021
Properly
is a different kind of real estate brokerage. It's the stress-free, full-service, modern way to move.
Learn more
By

Lucas Samuels
In June of 2021, Ottawa and other Ontario cities reported the single largest monthly increase of housing loans in Canada. Canadians added $18 billion of new mortgage debt, pushing the total housing debt in Canada to $2 trillion. The Bank of Canada has warned Canadians about taking out so much home debt as it could cause a significant housing market hiccup.
It is no wonder why so many first-time homebuyers are hesitant to purchase a house and get involved in the real estate market. This has left many real estate investors and soon-to-be home buyers rethinking their overall plans for 2021 and 2022. When buying your dream house in Ontario in 2021, it is all about being informed and knowing the market. Once you better understand the market and the resources available to you, buying a home will be much easier.
Before You Buy
The first thing anyone should do when buying a house is save money for a down payment. Properly goes over how to help save for a down payment and save on costs when looking for a home here. This article will provide advice and guidelines before buying a home, so you can use the other article for a step-by-step breakdown of how to buy a house.
When saving money to make a down payment, every new homeowner should keep their credit score in mind. Building your credit score is a critical part of getting a mortgage as it shows lenders you can be trusted to make your payments. Having a high credit score can also reduce the interest rate on your mortgage and allow you to borrow more money from lenders.
Another essential aspect to consider is having a stable income to afford those monthly property taxes and housing payments that you will have to pay on top of your mortgage. Property taxes are different everywhere, so be sure to research what the taxes are like in the area where you are looking to set a budget for your monthly spending.
The first rule is to not look for a down payment that is entirely out of your budget. Try to be realistic with your savings and yearly income. It's not just enough to save money for a down payment; you also have to make sure you can afford the type of house you want. There are two ratios to think about when considering affordability: the Total Debt Service Ratio (TDS) and the Gross Debt Service Ratio (GDS).
The Total Debt Service Ratio is the ratio of your annual housing expenses plus your debt expenses, and that is all divided by your gross income. The Gross Debt Service Ratio is the percentage of your total annual mortgage payment and house expenses, divided by your gross income. These ratios are important because they provide a deeper understanding of your funds when buying a house and give you a more accurate budget. These ratios aren't the simplest to calculate and can take a lot of paperwork. That is why you should consider talking to a real estate expert or using an affordability calculator to do your calculations.
Something that a lot of Canadians overlook is the actual location of the house they would like to purchase. Sometimes you plan to find the perfect home, but it just isn't in the right spot. That is why before you buy a house, you should consider factors like neighborhood amenities, commute time, school rankings, and public transit. All these factors play a part in building your dream home, so be sure to look for what is best for you and your family. Some different areas also have additional taxes and fees, potentially saving you money if you take the time and look into other locations.
Shopping For a House
Now that you have your portfolio of essential documents and planned the perfect location with the best rates, it's time to start shopping around for a house. The first thing you can do to help with any home offer is register for a mortgage pre-approval. Mortgage pre-approval offers many benefits to new home buyers or people willing to put down a competitive offer. It allows you to lock in an interest rate for 60 to 130 days. If the rate increases during that period, this can ensure you have the lowest rate for up to 130 days.
The pre-approved mortgage acts as a contract with your lender, but the contract does not entirely bind you. For example, if you find great rates in one location but need more time to look at another, you can get the pre-approval and lock in rates at one location with your lender while simultaneously shopping for better rates elsewhere. It is highly recommended to do this because it only benefits the home buyer and gives you more tools to find better rates.
A mortgage pre-approval is a lot of work to put together despite it having many benefits. That is why when shopping around for new homes in Ontario in 2021, you must have a real estate expert by your side. A real estate expert can give you clarity in the hazy housing market. Real estate agents are up to date with the latest rates and have the tools to organize and calculate the best budgets for you. Look for real estate agents that are local to the area you are shopping for homes in. You can also use resources like Properly to match with an agent who understands your needs and area, making it easy to start off right.
Get Out There and Start Looking
After taking the time and organizing your finances and personal information, seeking out the best rates and rebates, and hiring a real estate agent to help save you money on a house, you can now find the best house for you. You are ready to buy your dream home.
Properly is a Canadian tech-enabled real estate brokerage transforming the home buying and selling experience as the only service in Canada that helps homeowners to buy before they sell.
Buy with confidence.
Sell without stress.
Start your search for your next home with our comprehensive, personalized home valuation.
Get started
Read next
See more posts