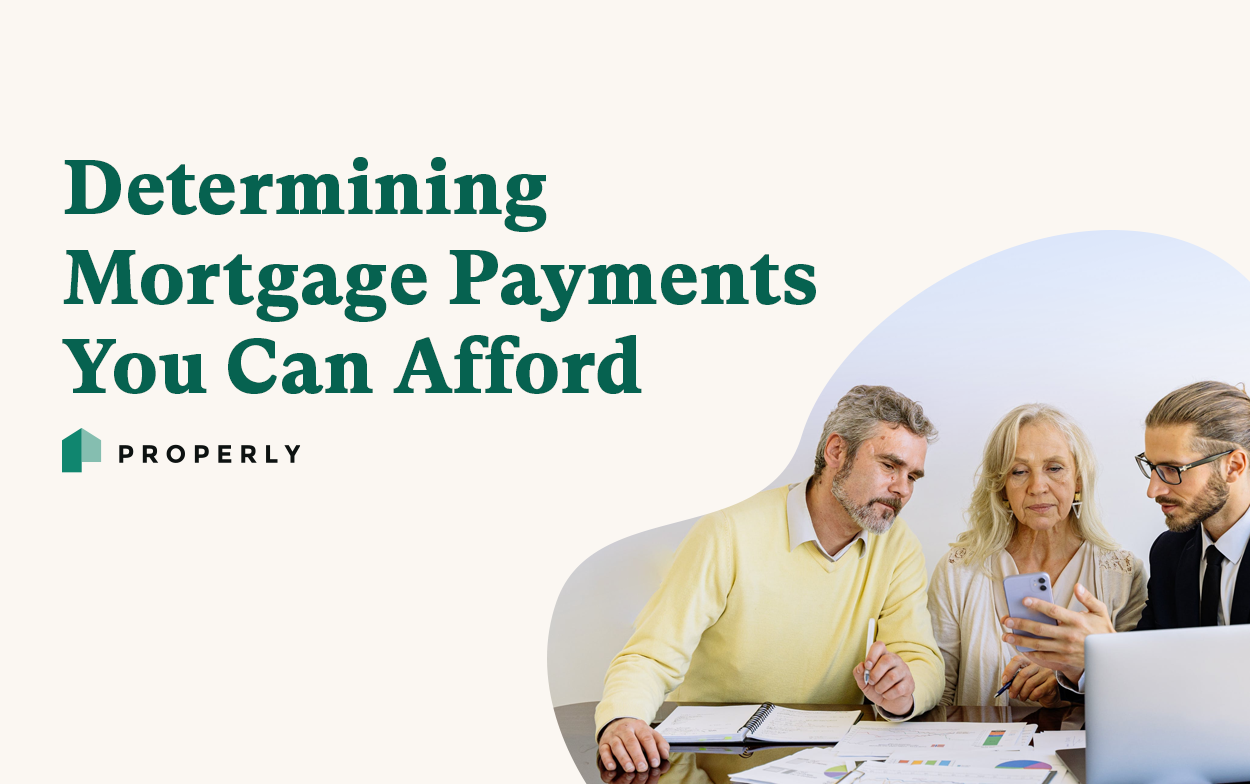 Determining Mortgage Payments You Can Afford
Properly
is a different kind of real estate brokerage. It's the stress-free, full-service, modern way to move.
Learn more
By Arthur Favier
It's the end of summer and you're finally ready to start shopping for a new home. You've looked at prices, evaluated neighbourhoods, and considered the monthly payment—all of which you know will be more than you can afford. So how do you make a decision when it comes to a mortgage payment?
Have you ever wondered how much house you can afford? Or, how much mortgage can you afford? Once you ask yourself these questions, you can decide if it is the right time for you to buy a house and understand everything that is involved.
Do I Have Enough Saved for a Down Payment?
The bank or lender will consider your down payment the same way they view credit history—as an indicator of how reliable you are. They want to know you can make at least a 20 percent down payment before you start shopping for that house.
You may be able to find a lender willing to loan up to 95% of the price, but you will be paying high interest rates. Also, the bank is not going to help you with any problems that may occur during the loan period.
Don't spend all your savings on a down payment. Save some for repairs and emergencies because things happen in every house at one time or another.
How Much Should I Pay Each Month?
There are several ways to figure out how much you can afford monthly. The standard rule is to not spend more than 28% of your gross monthly income on your mortgage payment, including taxes and insurance. You can also use the 35-40 guideline for debt to income ratios. This rule states you should pay no more than 35% of your gross monthly income for housing and no more than 40% total debt-to-income ratio.
Do I Have Enough for Closing Costs?
Before you apply for a mortgage, be sure to have enough cash for the closing costs. You will need money for:
Land transfer tax

Legal fees

Title insurance

Property appraisal

Land survey fees

Inspection fees

Property insurance

Moving costs
The average closing costs in Ontario range from 1.5% to 4% of the total purchase price. For example, closing costs on a $500,000 property would range from $7,500 to $20,000.
What Are My Current Living Expenses?
It's not advised to become "house poor", which is what happens when homebuyers purchase a property and cannot afford anything else. Don't forget about the day-to-day costs of living in Canada. From groceries to gas to your morning coffee – expenses add up quickly! Make sure that you won't be stretching yourself thin with the mortgage.
Am I Expecting a Lump Sum of Money in the Near Future?
If you are expecting a promotion or inheritance, you might want to wait until you have it. A lump sum of cash can help ensure that you have a larger down payment and ultimately can negotiate a lower interest rate.
Am I Set on a Particular Neighbourhood?
Some neighbourhood pockets are particularly expensive. Considering moving outside of hot real estate pockets can save you thousands on a property, ultimately lowering your monthly payments. If you are willing to commute, being flexible on location can be a smart choice.
What is My Qualifying Rate?
Every bank has its own lending standards, but they all must abide by federal laws. To ensure that you are within federal lending guidelines, contact a mortgage broker or bank and ask your mortgage representative. The representative will be able to give you the qualifying rate for the lender at the time of your application. The rate provided to you can largely impact your monthly mortgage payments. Lenders really appreciate your honesty about any extenuating circumstances you may have in your financial history, including missed payments or credit card debt. Remember, these matters do not necessarily mean that you are less able to pay back your mortgage. However, lenders want to ensure that you will be able to handle the monthly payments and the home expenses for the entirety of the term.
How to Choose a Bank or Lender
Most people have a fairly firm idea of what they want when it comes to their mortgage. However, the process of buying a home—or refinancing one—can be confusing and difficult. That's why it's important to choose the right lender to work with. There's nothing worse than getting a loan that's too expensive or one that is difficult to afford. And it's not always easy to choose the right mortgage provider or lender. You want to make sure you choose the right product as well as the right company to service your mortgage.
When looking for a good mortgage lender, you have several options. You can go through a bank or credit union to obtain the loan, but first consider talking with some other financial institutions. For example, your friends and family may know of other professionals you could work with. Additionally, some experts will recommend that you talk directly with lenders to see what they are offering. Be careful here, though. While a lender might offer you a great deal, that doesn't mean that they are giving you the best deal possible.
What to Do If You Want More Than You Can Afford
If you want to buy a certain home, but it's too expensive for your budget, you have more options than simply walking away from that dream. After all, if you can't afford to buy the house of your dreams, then you should look into renting an apartment or condominium instead and saving up more money. Buying a home is one of the biggest financial decisions and you certainly don't want to buy a home that you can't afford.
If you decide to revise your budget and live more modestly for a few months so that you have enough leftover at the end of each month to pay the mortgage on that dream home, then why not give it a shot? The key is to be both realistic and optimistic about your future financial situation.
Remember, no matter what happens in life you can't go back in time and change past decisions, but you can learn from them so that they don't hurt you financially again down the road.
Properly is a Canadian tech-enabled real estate brokerage transforming the home buying and selling experience as the only service in Canada that helps homeowners to buy before they sell.
Buy with confidence.
Sell without stress.
Start your search for your next home with our comprehensive, personalized home valuation.
Get started
Read next
See more posts