Here's how much electric vehicle chargers drive up home prices in Toronto and Vancouver
Properly
is a different kind of real estate brokerage. It's the stress-free, full-service, modern way to move.
Learn more
As automotive companies continue to push toward a greener future with more electric vehicles (EVs), the housing market has taken notice. With the increasing number of EVs hitting the roads, more people are looking for properties that can support them – a push that has seen sales of homes with EV chargers in the GTA and Vancouver area grow by 15% and 16% respectively, in the last year.
To get a better understanding of how the demand for EV-enabled homes has evolved, and what house hunters looking for EV charging capabilities can expect, we analyzed the listing descriptions and sold prices of GTA homes and Vancouver-area homes over the last 10 years. What did we discover? For homeowners, the future is looking electric.
The number of homes with EV chargers sold in the GTA and Vancouver saw year-over-year growth of 15% and 16% respectively
From 2020 to 2021, EV-enabled homes continued to increase in popularity, with the Vancouver area seeing year-over-year growth of 16%, and 15% in the GTA. The increases of EV home sales in both regions are even more notable when considering their totals within the past five years. In the GTA, there were as few as 55 homes with EV chargers sold in 2018, while in Vancouver, that number was only 42. By comparison, in 2021 there were 375 new EV listings in the Vancouver area, and 141 in the GTA, record amounts for each region.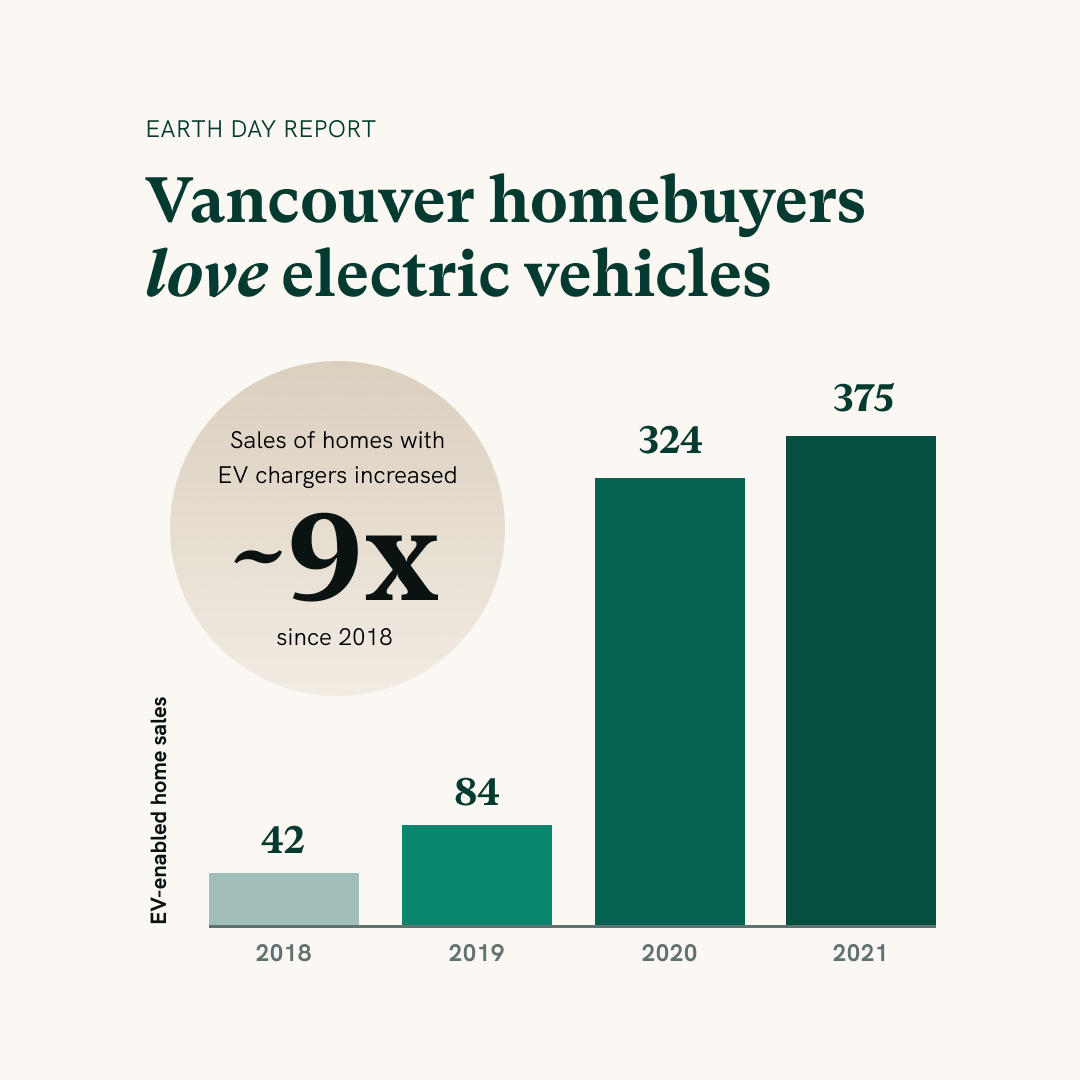 "Homes are extensions of who we are, and for many people in the Vancouver area, that means having a place that supports an environmentally-conscious lifestyle. For those house hunters, not having EV chargers has become a deal breaker, so I'd expect this trend to continue." -Ariane Benjamin, Properly Vancouver Real Estate Agent
Related Report: See the top 5 happiest neighbourhoods in Vancouver
The value of EV-enabled homes continues to grow over time
A home with electric vehicle charging capabilities offers more than just environmental benefits, as the median sale price of EV-enabled homes is rising. Sold prices of homes with EV chargers increased by over 19% in the GTA year over year, and by 4.5% in the Vancouver area year over year. These values continue to grow, getting closer to the median sale price for all homes in both regions.
"The Greater Toronto market continues to show us that homes with environmentally-conscious features, such as EV chargers, are the future. We're seeing these features become 'must haves' now more than ever before, which is reflected in the rising value of these types of homes." -Anna Emmanouil, Properly GTA Real Estate Agent
What do these EV-enabled home trends mean for future homebuyers and sellers in the Toronto and Vancouver areas? It's good news: those perusing listings now have more eco-friendly housing options available to them than ever before. It also means that, down the road, those who add EV chargers for their vehicles could also be adding value to their homes. And, if the upward trend continues, those homes will become more sought after when the time comes to sell - simply because their owners thought ahead by thinking 'green.'
About the data
We analyzed sold listings from REBGV and TRREB for homes sold in the last 10 years that have EV charging capabilities. The presence of these capabilities was judged based on the listing description written by agents. Vancouver municipalities included: Abbotsford, Burnaby, Coquitlam, Delta, Langley, Maple Ridge, Mission, New Westminster, North Vancouver, Pitt Meadows, Port Coquitlam, Port Moody, Richmond, Surrey, Tsawwassen, Vancouver and White Rock.
Properly is a Canadian tech-enabled real estate brokerage transforming the home buying and selling experience as the only service in Canada that helps homeowners to buy before they sell.