Home improvement projects to tackle during your time indoors
December 3rd 2020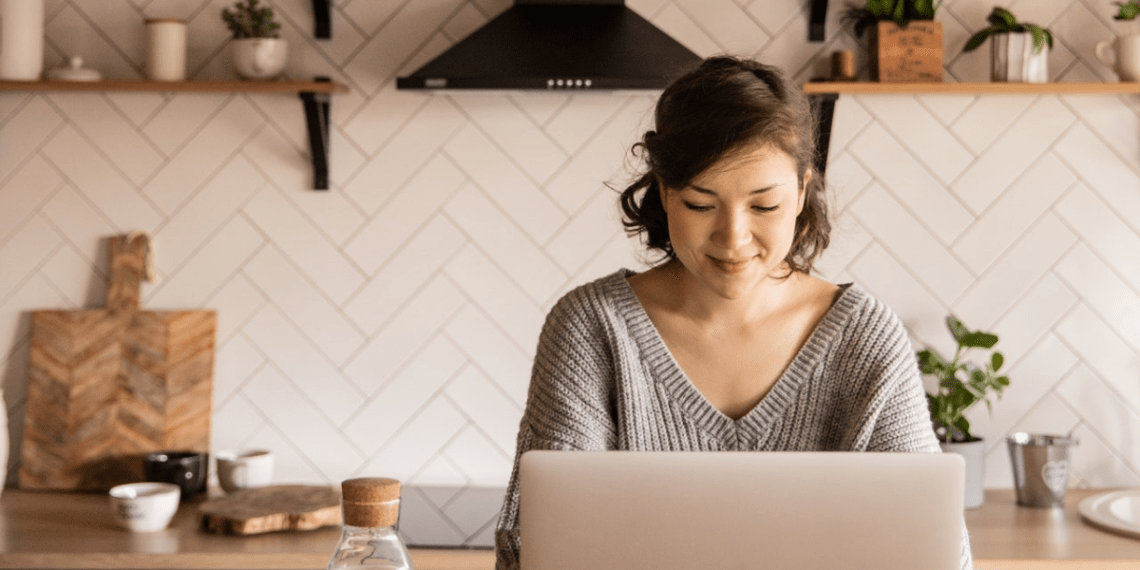 This winter, you'll likely find yourself staying inside more often than usual – why not put that time to good use with a few home improvement projects? There's always something you can upgrade in your home to make it better suit your needs, your style, or just to make it feel more home-y. Here are a few of our favourite ideas for DIY home projects, with options for any level of home improvement experience:
Projects for beginners
1. Change your wall colour and texture
Peel and stick wallpaper is a major game-changer for DIY home improvement projects. You don't have to manage paint brushes and trays. There's no taping, fumes, or drying time required. And you don't have to worry about getting a colour match if you run out of paint. Best of all, when you get tired of your chosen colour or pattern, you can simply take down the wallpaper and try something different.
The biggest challenge will be getting your wallpaper straight. Tackling this project with a family member or roommate can make it a bit easier, but it's also manageable solo – you'll just want to take your time. Explore your options for colour, texture, and pattern to brighten up your walls. If you're not ready to commit to a whole room, try an accent wall!
2. Paint your front door
Your front door is a focal point of your home, so a fresh coat of paint can do wonders for your curb appeal. There's also another added benefit of painting your front door right before winter: it gives you a chance to seal any cracks, chips, or holes that could make your home drafty.
All you need to get started is a can of exterior paint, brushes, and painter's tape. Some people prefer to take the door off its hinges to paint, but you don't need to. Instead, place tape around the door frame so that no paint transfers when you close the door. It's also wise to clean your door prior to painting to get an even coating.
3. Hang curtains
Hanging curtains is one of the best winter projects for many reasons: for starters, curtains add an additional barrier between you and the bitter cold outside. It's also a simple and relatively inexpensive way to make your home feel more cozy. And if you already have curtains in your home, you might be surprised to learn that many people don't hang them correctly.
Expert home stylers suggest hanging the top of the curtain above the top of the window to make your room seem larger. In addition, you'll want to extend the rod 7-14 cm on either side of the window to make the space seem wider. The bottom of the curtain should slightly brush the floor for a crisp, elegant look. If your curtains aren't hung correctly, this is an easy fix that can really change the look and feel of a room.
Projects for intermediates
4. Add a kitchen backsplash
Transforming your kitchen can be as simple as applying tile between your countertop and upper cabinets. Tiles for backsplash come in all shapes, colours, and sizes. Plus, you can often do an entire backsplash for $1,000 or less. That's a lot less than it would cost you to replace or repaint your cabinets or change out appliances, and your kitchen will look and feel brand new.
5. Add wainscoting to the entryway
Wainscot is the fancy term for wood panels that usually occupy the bottom third of a wall. It's an inexpensive way to make your home feel more high end.
You will need plywood, paint and painting accessories, measuring tools, a stud finder, and hammers and nails. Most home centers can cut your wood to specification, which can be a huge time and labour saver. The most time-consuming part is measuring and cutting the wood, then sanding it once it's in place. Once it's painted, you can add decorative hooks for backpacks and coats, or simply leave it bare for a clean finish.
Projects for experts
6. Upgrade your lighting
Changing a light fixture is relatively straight-forward, but it's helpful – and much safer – if you have some electrical knowledge. Otherwise, this one might be best left to expert DIY-ers or a professional electrician.
If you do have some lighting experience, this could be an ideal home project for you this winter. Light fixtures can change the entire vibe of a room. Take this opportunity to replace builder-grade fixtures with ones that represent your personality and style. Adding more lighting can also help your home feel bigger and brighter, a major bonus during a cold, dreary winter.
There are plenty of things that beginner and expert DIY-ers can do to make their home one of a kind. But when your home isn't working for you and DIY home improvement won't cut it, work with Properly to upgrade to a new home. Visit properly.ca to get started.