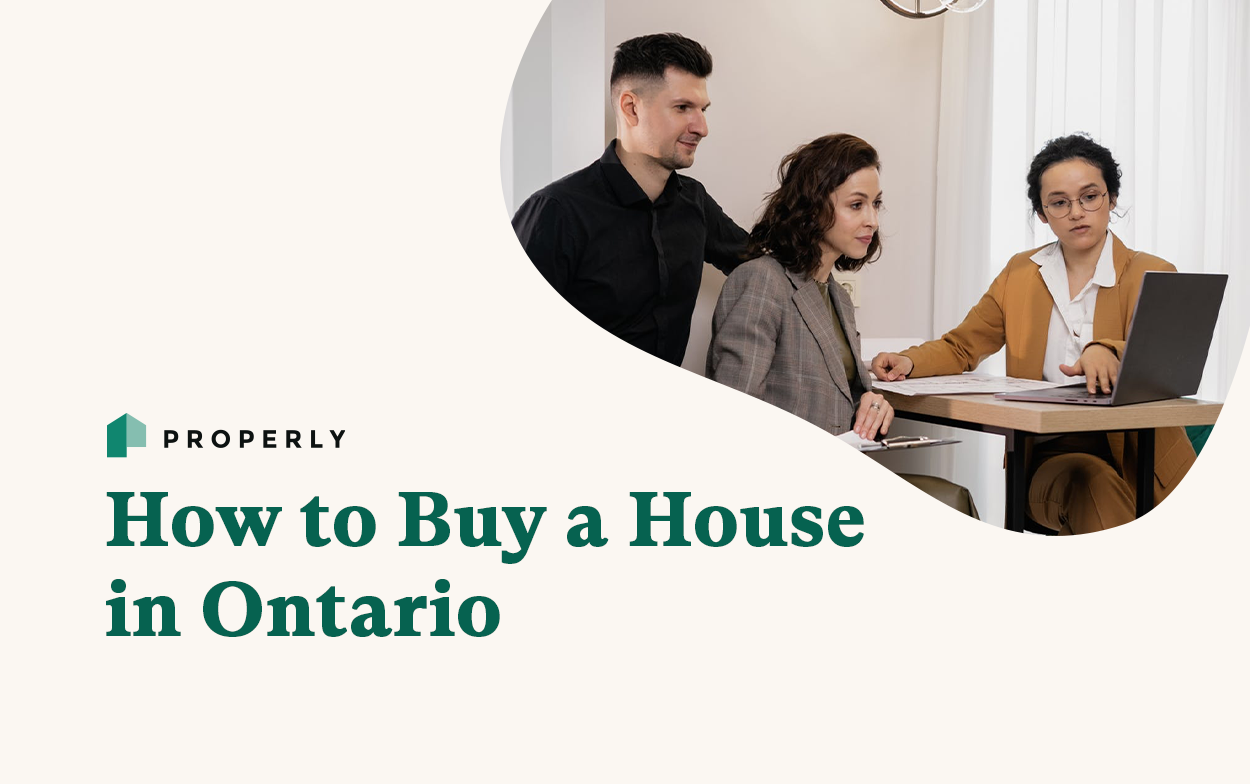 How to Buy a House in Ontario
Properly
is a different kind of real estate brokerage. It's the stress-free, full-service, modern way to move.
Learn more
By

Corey Sherwood
Buying a home is one of the most significant life decisions any person can make. It is an expensive endeavor, but you have a piece of land to call your own by the end of it. Such a momentous decision should not be taken lightly, and the truth is most Canadians are hesitant to get into the real estate market.
Buying a home does not have to be a scary experience; however, there are some incredible resources out there to make sure you find your dream home. Sadly, they often vary on advice and insights into new home buying. Few people are taught how to buy a house and what to look for, but most real estate experts agree on some critical factors when buying a home. This article will be walking through these key factors and explaining how to buy a house in Ontario. Whether it is your dream home or a real estate investment, all Canadians should know how to buy a home.
Save the Money
The first phase in buying a home is to save as much money as possible for your down payment. This can be the hardest step for most Canadians, but it doesn't have to be if you buy a home in Ontario. Saving for a down payment can take time, but luckily, Ontario down payments are not outrageous. You can pay as low as 5% of the property's total value for your down payment, reducing the amount of time it takes you to save up.
However, if you buy a home with a 5% down payment, there can be some negative side effects. Your mortgage insurance will be extremely high, and you will end up paying more each month for your mortgage. You will also have less home equity with a smaller down payment, which would mean you spend more on interest overall than if you have a larger down payment.
Spending on a down payment is not the only thing you need to save for either. Specific fees can be applicable when you buy a home. These fees are called closing costs, and they can add up, especially on top of your down payment. These fees include title insurance, lawyer fees, and land transfer tax.
Another expense to consider when saving to buy a home is for a home inspector. One of the most important parts of buying a house is finding the right home inspector. They examine, in person, the condition of a home and make sure it passes all zoning and building requirements. You must have an inspector look at your home if you buy a newly built home or an older one. A good home inspector can make sure you know everything that is wrong with the house, allowing you to bargain effectively with the seller and possibly avoid major problems down the road.
It can take a while to save the money you need for the best mortgage rates, but once you have the money, it is time to move on to the next phase.
Get Informed
The second phase sounds obvious because you aren't going to buy a home without knowing a lot about it. However, you should be aware of all your finances and paperwork and understand all the great programs and rates available to you. It would help if you were preparing your documentation because there is quite a lot of paperwork involved in applying for a mortgage in Ontario. Documents like T4's, recent investments, business income, pay stubs, savings statements, void cheques, and a list of all debts and assets like student loans must be compiled and submitted when you apply for a mortgage.
Once your paperwork is together, you can start looking for rebates and grants to help lower the overall cost of buying a house. Applying for rebates is a great way to save some money when buying a house. Programs like the Ontario Home Buyers Plan allow you to use money directly from your Registered Retirement Saving Plan (RRSP) up to $35,000, which can help with a down payment. There are many resources online to help you find and apply for these rebates, like the Home Buyers amount, which can give you a $5,000 income tax credit, or the GST/HST New Housing Rebate, which you can find out more about at the link provided.
The last step is to find the best mortgage rates and housing prices on the market. Much like buying a car, you can look at other rates in other areas or other real estate company's offers. High competition in some regions can allow new housing prices to stay competitive and make them easier to buy. Finding the best rate can save you tens of thousands of dollars on your mortgage, so be sure to do your research.
It also helps to secure a mortgage broker who can compare rates for you and create a diverse portfolio of home buying options. A mortgage broker also allows you to get your mortgage pre-approved, which can come with various benefits. When you sign up for a pre-approved mortgage with a mortgage broker, you can get a better sense of how much you can afford to spend on a house and the maximum monthly mortgage payment you would have to pay. It is important to note that getting a pre-approved mortgage is a lot of work and sometimes isn't for everyone, so discuss with your mortgage broker before you jump into anything too serious.
Buy Your Dream House
The final phase of buying the right home for you is to look for the house! Once you have saved the money, organized all of your documents, and found the best rebate and rate deals, you genuinely get to the fun part of home buying. Once you find your dream home, submit your offer and cross your fingers because you might be a new homeowner!

A lot of the process is tricky, and even if you submit an offer, you might not get the home you want. That is why it is imperative to team up with a real estate agent or expert like Properly. Properly has a team of highly trained real estate experts working in Ontario to help customers save thousands when buying a house. When you take a massive step in your life, it is always best to have a great team behind you every step of the way.
Properly is a Canadian tech-enabled real estate brokerage transforming the home buying and selling experience as the only service in Canada that helps homeowners to buy before they sell.
Buy with confidence.
Sell without stress.
Start your search for your next home with our comprehensive, personalized home valuation.
Get started
Read next
See more posts