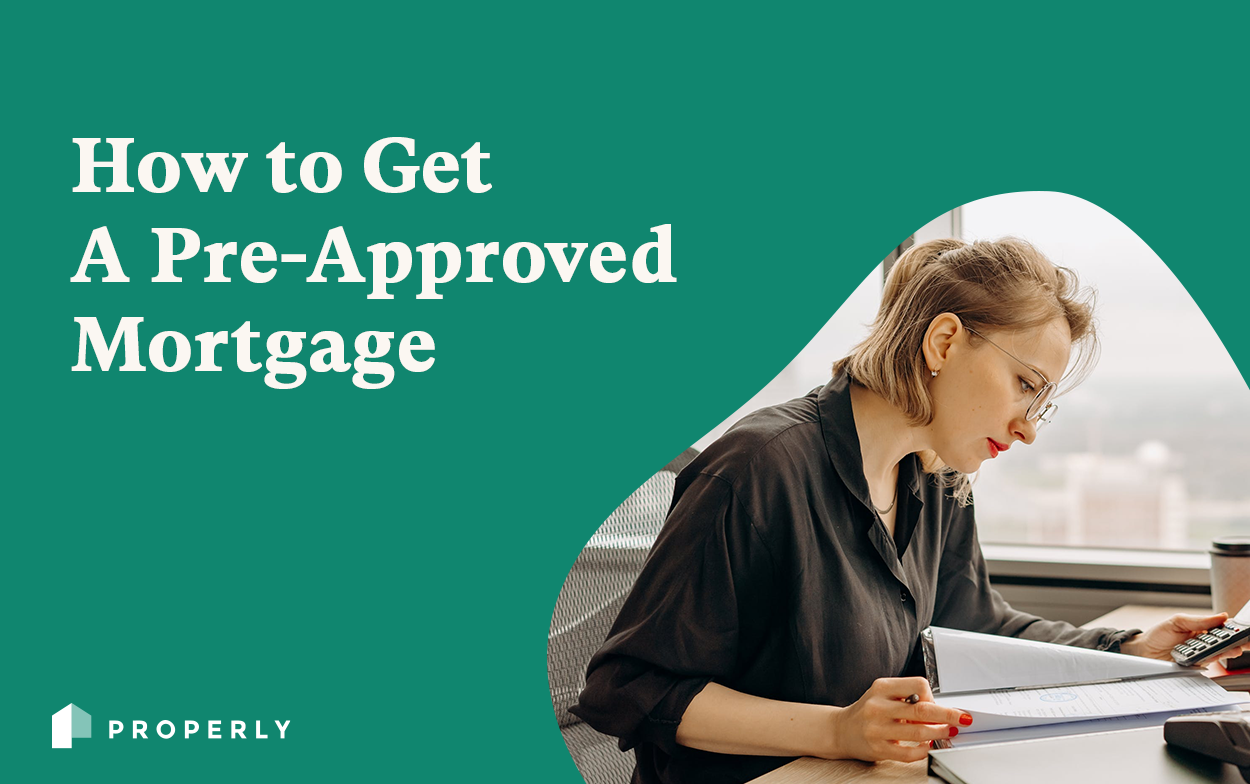 How to Get A Pre-Approved Mortgage
Properly
is a different kind of real estate brokerage. It's the stress-free, full-service, modern way to move.
Learn more
By Arthur Favier
When deciding on the type of mortgage you might need, there are a lot of factors to consider. For example, how much money you plan to borrow, how long you might want to pay it back, and how much you might want to borrow at any point in the future. You have to consider these financial factors with a mortgage pre-approval, which is a preliminary assessment of your financial worth. The purpose of pre-approval is to show that you can qualify for a mortgage that fits your needs and meet the lender's requirements.
If you are planning to buy a house, there are several things you should consider before you break the bank on a mortgage. Buying a home is a big decision and a significant financial investment. Before you do, ask yourself a series of questions:
How much can I afford?

What kind of home do I want?

How much will I need for real estate closing costs?

How long do I plan to stay in the home?

How much money do I have saved?

How long will I be able to make a mortgage payment?

What types of homes are available in my area?

Is this the right time to buy?

How do I find the best mortgage lender/s?

How can I get a mortgage?
The first step to getting a mortgage is to get pre-approved. Pre-approval is a form of credit that evaluates your credit history and the likelihood that you will make mortgage payments on time. If you are not pre-approved, you will not be able to get a mortgage loan. If you are pre-approved, it means that the mortgage lender trusts you to pay back a loan and you will be able to find a lender that is more willing to lend you money.
What is a Mortgage Pre-approval?
A pre-approval is a mortgage loan document that is prepared by a mortgage broker or agency in advance of a mortgage loan application. A mortgage pre-approval is required by mortgage lenders for a client to purchase a home or refinance an existing mortgage.
A mortgage pre-approval is available to help you know what mortgage amount is right for you. The amount of the pre-approval is based on a number of factors, including your credit rating, down payment, and monthly income. This is a critical step to having your mortgage approved and financing.
Where to Get a Mortgage Pre-approval
Mortgage approval is becoming increasingly convenient. Once confined to a phone call and a visit to a bank branch, these days it's possible to get pre-approval online and have your loan coordinator approve your loan.
Alternatively, you can get mortgage pre-approval from lenders and brokers. Lenders loan the money directly to you. They offer different interest rates, which is why it's best to shop around before settling with a lender. The following types of lenders exist:
Banks

Credit unions

Mortgage companies

Trust companies

Insurance companies

Loan companies
On the other hand, mortgage brokers do not lend money directly to you. Brokers have access to many different lenders and work to set up the transaction to find a suitable lender for you. Some mortgage products are only available through brokers, and mortgages vary from broker to broker.
What to Provide to Your Lender or Mortgage Broker
If you are going to get pre-approved, there are certain things that you need to provide to the mortgage lender. These include:
Your credit score

Your income tax return for two years and W-2s (Gross Income)

Proof of assets

ID and Social security number

Recent bank statements

Details on long-term debts (e.g., student loans)
What to Consider During the Preapproval
If you are considering buying a home, you should be pre-approved as early in the process as possible to get started. Pre-approval can last for up to two months and is not binding upon you or your lender.
The amount you're pre-approved for is the maximum amount for a mortgage available to you by the lender. The approved amount will depend on the property's value and the amount of the down payment. Since it's the maximum amount you can get for a mortgage, you can also look at properties of lesser value to not go over your budget.
Don't forget that on top of the down payment, you will also need money for real estate closing costs, moving costs, and ongoing maintenance costs. For down payments of less than 20%, there will also be the added costs of mortgage insurance. Canada Mortgage and Housing Corporation (CMHC) is a Canadian Crown corporation that was established in 1946 as the national housing agency of Canada. It provides mortgage loan insurance for homebuyers when they purchase a property with less than a 20% down payment.
What to Do If Your Application is Rejected
Even if you received pre-approval, your mortgage application can still be rejected.
Before a lender approves your loan, they will verify that the property meets specific standards according to their criteria. Each lender follows its own guidelines and policies. For example, if you have a poor credit history, a lender is more likely to reject your application. If your application is rejected, ask for other options available to you. These options might include lowering your mortgage amount, charging higher interest rates, providing a larger down payment, or getting a co-signer for the mortgage.
Questions to Ask Your Lender or Broker
During the mortgage pre-approval process, make sure to ask your broker or lender the following questions:
How long is the pre-approved rate guaranteed?

If interest rates fluctuate, does the pre-approved rate change?

Can the pre-approval be extended?

Once you've got a mortgage pre-approved, you've made it to the next step. The next step is finding a home. That's where most people struggle, because they don't know what they want, or have no idea how to find it. But what if you could find the perfect home with the help of a real estate agent?
Properly is a Canadian tech-enabled real estate brokerage transforming the home buying and selling experience as the only service in Canada that helps homeowners to buy before they sell.
Buy with confidence.
Sell without stress.
Start your search for your next home with our comprehensive, personalized home valuation.
Get started
Read next
See more posts