July 13th: the BoC announced its 4th interest rate hike. Here's what it means for real estate (and you)
Properly
is a different kind of real estate brokerage. It's the stress-free, full-service, modern way to move.
Learn more
Today, the Bank of Canada (BoC) raised its benchmark interest rate by 100 basis points, from 1.5% to 2.5%. It's the 4th rate hike this year, with future increases expected to be on the way.
The rate hike is all a part of the BoC's goal of lowering inflation—and moving towards a more balanced market—and should be top of mind if you're thinking of buying or selling a home right now.
But how exactly should you be thinking about these recent market changes? We wanted to know, too. That's why we asked housing market expert and Pricing Manager Arieh Dales to help us understand this recent increase, and how to strategically approach buying, investing, or selling right now.
TL;DR - Here's the gist of the July 13th rate hike and what it may mean for real estate (and you):
Interest rates have increased by 2.25% this year, which has also caused mortgage rates to rise
In an ongoing effort to manage inflation, we can expect more increases to come
The real estate market is balancing out after 2 years of record activity
Buyers are likely to have more choice, more bargaining power, and more time to make decisions—but affordability is still a question mark
Sellers are experiencing longer listing periods, regardless of pricing strategy
Related Article: On June 1st, the BoC announced another interest rate hike. Here's what it means for you
Q: So, why the recent hike to 2.5%?
Interest rates are the steering wheel of the economy.
Interest rates are the main tool the BoC uses to cool down the economy when it heats up, or support it when it needs help growing.
After using low interest rates as a tool during the pandemic to support the labour market (and successfully: the unemployment rate in Canada was 4.9% in June, lower than before the pandemic!), the BoC had to change course in 2022 as the economy started to 'overheat.'
'Overheating' may sound like a good thing when it comes to economic growth, but it can present some challenges. In particular, it pushes up the price of goods, services, and real estate. These price pressures are measured in higher rates of inflation.
Simply put, when there's too much demand for goods and services compared to supply, prices go up. And this year, they went up at a breathtaking rhythm: inflation reached a record high of 7.7% in May (the largest yearly increase since 1983).
And it's not just the prices at the gas pumps: if you excluded that element, you'd still see 6.3% inflation. (Actually, inflation in services was above 5.2% in Canada in May, its highest level since 1991.)
But why is it so important to control inflation?
Inflation has to be low, stable, and predictable, which is why the BoC has targeted 2.5% this time around. Too much inflation is a challenge because it pushes us to spend quickly (as our money loses purchasing power when prices increase), rather than save.
On the other hand, stable prices allow money to keep its value, and help people and businesses better plan their spending and investments. This helps the economy to grow and, in turn, create jobs and economic prosperity.
To fight high inflation, given that it has little influence on the supply of goods and services, the BoC can use interest rates to slow down demand. With higher interest rates, credit purchases become more expensive, the Canadian dollar gets stronger (making imported goods more affordable), and saving becomes more attractive than spending.
Q: Interest rates are going up? Yes. Does it impact the real estate market? Yes. But for how long?
High inflation is the reason the BoC increased interest rates several times this year, and again today, by a total of 2.25 percentage points (from 0.25% to 2.5%). This trend is set to continue—with some experts suggesting that the main interest rate could settle around 3.5% by the end of the year.
In its last (April) Financial System Review, the BoC said that "a large misalignment of house prices relative to longer-term fundamentals could lead to an abrupt price correction in the future." But, it also suggested that it's hard to say if this will be a long- or short-lived correction: "It is too early to tell whether the recently observed decrease in resale activity and prices will be temporary or is the start of a deeper, lasting decline."
Q: What rate-increase-related trends are we seeing in the real estate market right now?*
1. Interest rate increases mean more mortgage rate increases.
The past BoC interest rate hikes have had a direct impact on mortgage interest rates in 2022 as you can see below. Figure 1 shows that the 5-year 5Y conventional mortgage rate (administered on average by chartered banks) increased by exactly the same amount so far, and is likely to end the year above 6.5%.
Figure 1: Mortgage interest rates have been moving in tandem with the BOC's main interest rate.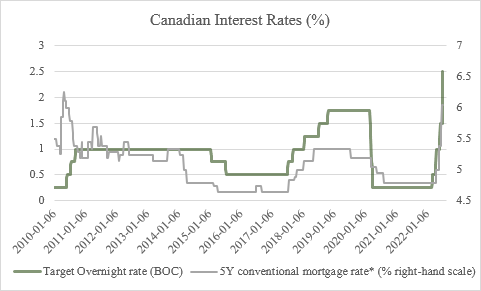 Source: Bank of Canada
2. Activity is normalizing at a fast pace.
So far, the higher rates have led to a more balanced market. The activity of the last 2 years (thanks to the anomaly that is the pandemic) has certainly been calming down in recent months. But, keep in mind that the number of transactions doubled in the last 2 years* and are still far from being back to their pre-pandemic levels—despite a 23% yearly contraction in May (30% in Metro Vancouver and 36% in the Greater Toronto Area [GTA]).
The ratio of sales to new listings (S/NL) has also normalized from record-high levels. The 2022 busy fall season, then, is likely to look much more like 2019 than 2021.
3. Home prices reached their peak in March.**
House prices reached their peak by the end of the first quarter this year. Compared to their pre-pandemic level (taking January 2020 as a reference—see Figure 2 below), Canadian housing prices had increased by 53% in March 2022 (57% in the GTA, and 33% in Metro Vancouver).
Figure 2: Toronto Home Prices compared to Canada and Vancouver Home prices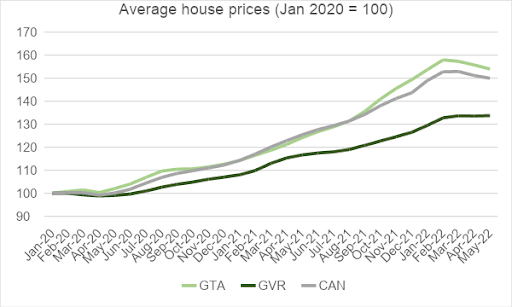 Source: The Canadian Real Estate Association
While Dales and other experts expect "home prices to continue to lessen as they have with the previous rate hikes," the BoC does provide some helpful forecasting in its Monetary Policy Report (also released today). It tells us that, while housing activity will continue to contract in late 2022 and into 2023, "housing activity and prices are forecast to stabilize later in the projection horizon as both population and income growth boost housing demand."
4. "Cheaper to buy, more expensive to own": Buyers continue to keep an eye on affordability.
While this might seem like more of a buyers' market, recent real estate shifts don't necessarily mean that affordability is improving just yet.
Dales observes that "on some homes that were sold in early 2022 and then sold again in recent months (two transactions on the same property in 2022), the average mortgage payment has increased by 10.7% and the average home price has dropped by 14.3%.*** This means that for the average buyer, they can still afford the same home they could have before—that home is now cheaper to buy, but more expensive to own."
So, it'll probably take larger price drops before we see affordability come up from its historic lows (see Figure 3 below).
Figure 3: Housing Affordability Index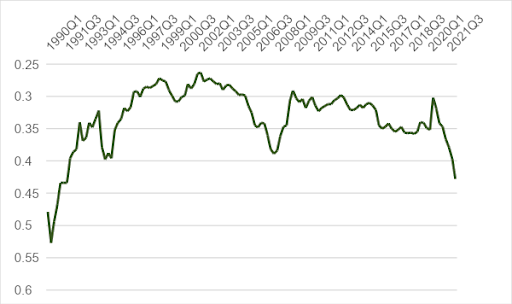 Source: Bank of Canada
Q: Okay. But what does this recent hike mean for buyers and sellers right now?
Buyers may have more power than they think.
"Strategically speaking, I think buyers should recognize the power they now hold," says Dales. "The supply and demand dynamics have now shifted in the market. There are more homes for sale than there are buyers."
Buyers looking broadly at an area for their new home should have the opportunity to negotiate with several sellers, more so than they have in the past few years. Dales notes, though, that "If you're looking for a very specific product, you may still find that the market is competitive."
One of the other perks for buyers right now? They have more time to make decisions and negotiate in ways that ensure their purchase is the best one to make in the long term (think inspections and financing).
Dales adds, "while in early 2022, most sellers would dismiss your offer if it was contingent on an inspection or financing, today, more and more, buyers have this option. Getting an inspection on a property can allow them to feel much more confident in their purchase, as they'll know what issues exist before making a move."
Sellers should expect longer listing periods, even if they're realistic with their list price.
"We're in a different market than we were mere months ago, meaning sellers are having different experiences, which can be longer list periods or different pricing strategies. While in March, most listings sold within the first 2 weeks on market, listings now frequently take upwards of 4 weeks to sell, so being nimble and keeping on top of market trends—and pivoting when necessary—is key right now."
For Dales, this is not necessarily because sellers hold on to unrealistic prices. "[Longer listing periods] may be irrespective of list prices: even if you are realistic with your list price, it can still take time to find the right buyer."
That being said, interest rates may not affect all markets with the same intensity, which means that some moves are easier than others. For example, "the suburbs have still seen much sharper declines than the city cores when speaking about Vancouver relative to the Fraser Valley, or Toronto relative to the GTA."
Whatever the market is doing, seek out helpful professional advice.
If you're thinking about buying or selling (or both) this year and are looking for more advice on how to navigate upcoming market changes before the fall season, Properly's housing experts can help.
Get an idea of what your current home is worth, and schedule a call with our team to help you navigate interest rates increases, mortgage options, and what will work best for your individual needs.
-
*
On average—if one takes Q2 of 2020 to Q1 of 2022 and compares it to 2018-2019
**According to the
Canadian Real Estate Association, which notes a peak at $839K CAD in March 2022, compared to $838.4K in February 2022
***Source: Internal data
DISCLAIMER: This article is provided for informational purposes only. It is not an exhaustive review of this topic. The content is not financial or investment advice. No professional relationship of any kind is formed between you and Properly, Properly Brokerage, or Properly Homes. While we have obtained or compiled this information from sources we believe to be reliable, we cannot and do not guarantee its accuracy. We recommend that you consult a trusted professional before taking any action related to this information. Properly is a tech-enabled real estate brokerage that is transforming the home buying and selling experience with AI-powered home valuations and a modern streamlined service. We recommend that you compare and contrast your options, read the fine print, and conduct detailed research into any real estate, loan, and/or investment provider before using their services.
Properly is a Canadian tech-enabled real estate brokerage transforming the home buying and selling experience as the only service in Canada that helps homeowners to buy before they sell.