Private: How Properly Calculates The Value Of Your Home
April 2nd 2020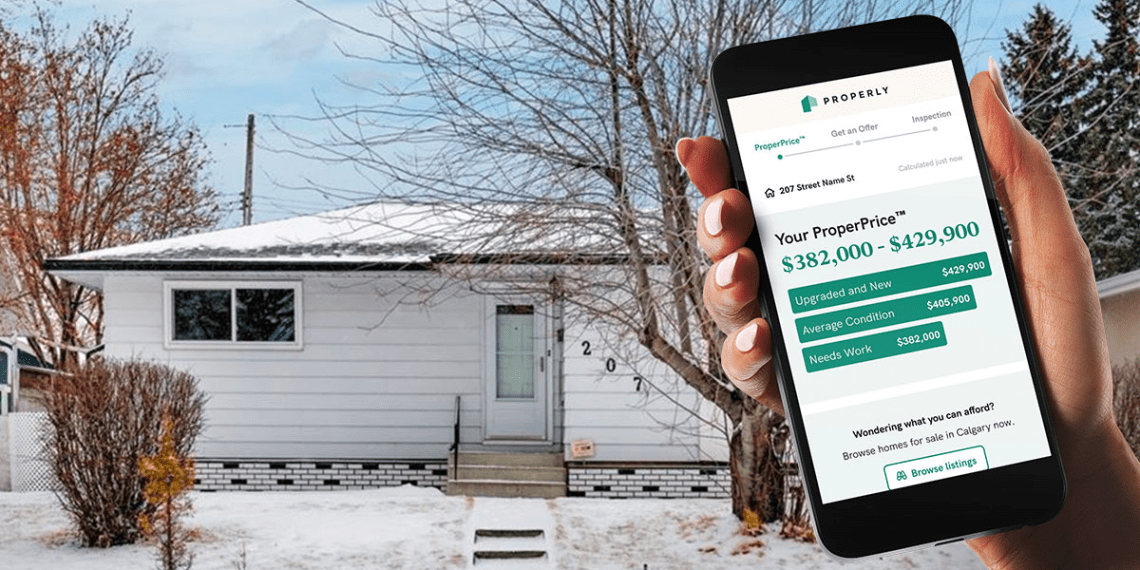 At Properly, we are committed to providing our customers with accurate, fast, and competitive valuations for their homes through our ProperPrice™ home value reports and all-cash offers.

We understand that the traditional home valuation process can be confusing. We decided to break down exactly how Properly calculates the value for your home to increase transparency and trust in the process.

Comparable Homes – The Pillar of All Valuation Models
First and foremost, the Properly home valuation process relies on comparables. Comparables are recently sold homes with similar features to your home. Through a combination of advanced data modelling and real estate expertise, we pull the actual sold prices of homes with similar features and use these as an input to benchmark your home's value.

To find a representative comparable home, we look for several factors. These are not ordered by importance, as the valuation process may weight these differently depending on the available information:

Recency – we look for homes sold within the last 6 months; the more recent, the better
Features – the home should share features with yours such as size, number of bathrooms and bedrooms, home type and style, home age, interior finish quality, basement development, and number of enclosed parking spots
Distance – the closer the better; a comparable home should be located in the same neighbourhood as your home
Location Features – if your home has a unique location feature such as lake access while other homes in the community don't, we will use comparables that also have lake access
In a perfect world, Properly is able to locate a group of comparables that sold very recently, share all the same features as your home, are located on the same street as yours and have a similar location. Unfortunately for the valuation process, homes are seldom the exact same, so we have to weigh these four categories to determine the most accurate matches for your home and adjust for the similarities and differences.
Your ProperPrice™ Report
The ProperPrice™ Report is a fast and free way for you to learn the value of your home. Even better, it is automatic and always up-to-date meaning you can track it over time. It was developed by a team of technology experts and real estate professionals. The ProperPrice™ Report has been rigorously tested on over 150,000+ sold homes (and counting!).
The underlying technology is called an Automated Valuation Model (AVM). Properly's AVM considers all the key attributes of a home, as well as hundreds of thousands of other data points to deliver a valuation. Using over 75 distinct data sources, we model effects of market trends on your particular home. By building an AVM, we are able to offer our customers a remarkably accurate home valuation tool in a matter of minutes.

Using advanced technology, the AVM is able to take more data points into account than a human ever could and it does so nearly instantly. The AVM considers the quality of nearby schools, comparable sales, neighbourhood density, transit accessibility, crime rates, proximity to highways and businesses, and much more ensuring that the ProperPrice™ you receive is reflective of your home's current value.
Your All-Cash Offer
Of course, as robust and accurate as our models are, they do not completely replace the proficiency of our local real estate experts. So, when we make you an all-cash offer, we add a little human touch.
While the AVM automatically looks at the hundreds of thousands of data points mentioned above, our pricing team manually picks comparables we feel best represents your home. We then adjust the value of the comparables based on how they differ from your home. We make adjustments for differences in size, interior quality, upgrades, number of bedrooms and bathrooms, home age, basement development, enclosed parking spots, and unique locations. For example, if your neighbour's home is 200 square feet smaller than yours, we would add value to it's sold price so that it adjusted to the expected sale price of your home.
By leveraging our extensive data analysis capabilities and local expertise, we have developed monetary adjustments for home features that are unique to each of our markets. We also don't hide our adjustments in a black box. If you decide to request an offer from Properly, you will see the four most accurate comparables used in our analysis as well as a detailed breakdown of all the adjustments we made.
Market Trends Analysis
There are a few more steps we take to ensure we are confident in your offer amount. First, we look at the level of competition and sales activity in your community. Sales volumes and competition can have a profound impact on the sale price of your home. For example, if your home is in a very desirable neighbourhood with few homes available, the value of your home will likely be increased. Conversely, if your home is in an area where there are few home buyers and there are many similar properties listed, your home value will likely be deflated. Our pricing experts will evaluate the need to increase or decrease your offer price based on the amount of competition in your neighbourhood relative to the number of historical sales.
Renovations and Repairs
Finally, we utilize our proprietary renovation tool to create a budget for the work we wish to undertake after we purchase your home. The goal of our renovations is to take a burden off your plate while making your home as marketable as possible. We understand that it can be costly, time-consuming, and inconvenient to get your home ready for sale. Perhaps you never got around to replacing the worn carpet in your living room, no worries, we'll take care of that. We purchase your home as-is and manage the renovation project after we take possession of the home and you've received payment. Keep in mind; we are not home-flippers. If we profit, you profit. If our renovation increases the value of your home more than the project costs us, you can rest easy knowing we will split any proceeds 50/50 with you. Learn more about the Properly Profit Share Guarantee here.
To finalize the valuation you receive in your offer, our pricing team evaluates the various data points at their disposal. Utilizing their market expertise, the pricing team decides how much weight to place in each of the AVM output, average comparable adjusted value, community competition and liquidity levels, and renovation requirements. While coming to a final valuation is a difficult task, our team has delivered offers with extremely high accuracy so you can feel confident in the precision of our offers.
What's Next?
Now you know how we accurately value your home. Here are three ideal next steps for you if you are interested in working with Properly.
Interested in purchasing a new home? Check the ProperPrice™ of any listed home when you visit a listing at properly.ca/buy. You can also rest easy knowing that if you see a Properly-owned home listed, we have undertaken a rigorous home preparation process and completed renovation work with tremendous care and quality craftsmanship.

Interested in learning more about your home value? Get started with a ProperPrice™ Report (PPR) for your home. If you wish to use the PPR as your starting point and are comfortable with the valuation it presents, you can proceed to an all-cash offer.
Interested in getting an offer for your home right away? A real estate expert from our Pricing Team will go through all the steps mentioned above (comparable analysis and adjustments, AVM, liquidity and competition, and renovation tool), and provide you with a competitive offer within two business days. Get a no-obligation offer here.