Real estate right now: What one expert is noticing in Toronto and Vancouver
Properly
is a different kind of real estate brokerage. It's the stress-free, full-service, modern way to move.
Learn more
As interest rates continue to climb, our team of real estate experts is keeping close watch on the subsequent changes to the housing market.
Like you, we're curious to understand how both buyers and sellers can navigate the market with confidence. That's why we recently sat down with Properly's Pricing Manager Arieh Dales to give you more insight into what the housing market is doing in Vancouver and Toronto, and what you can be optimistic about in what feels like an unpredictable real estate environment.
Q: On April 13th, the Bank of Canada (BoC) announced a 0.5% increase to their benchmark rate. What effect do you see this having on the market in the short and long term?
A: While rates are still very low in a historical context, as they rise, it inevitably affects buying power.
When you get pre-approved for a mortgage, you lock in an interest rate for 60-90 days. But if you don't buy a house in that timeframe, that rate expires. And because of the BoC changes, your next pre-approval rate will be higher.
That said, the recent BoC increase is unlikely to massively affect approvals since most buyers already have to qualify at 5.25%.
Some variable rate holders may also now be finding their home too costly to comfortably afford.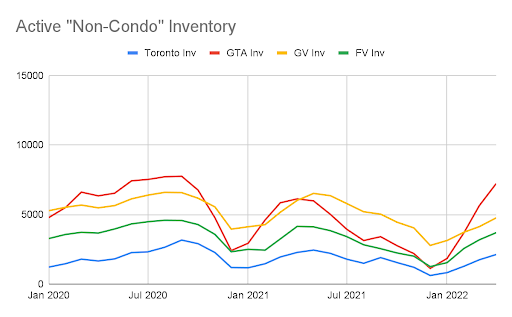 There's a difference between what someone can afford on paper—that is, what someone can afford based on stress testing—and what they're willing to spend on their mortgage in practice. An individual who got a $1M mortgage at a 1% variable rate just a few months ago would see their monthly payments increase by around $1,000 if their rate hit 3%.
That extra $1,000 (or more, if you have a larger mortgage) could be more than you're willing to spend, which means some homeowners may decide to downsize in an effort to minimize their debt and maximize their savings/disposable income.
Some bank analysts are expecting an incremental 50 basis point increase on June 1, which means the benchmark rate will go up to 1.5%.
Q: The April interest rate increase is already having an impact on the number of homes for sale in the Greater Toronto Area (GTA) and Greater Vancouver. What trends are you seeing in these areas?
A: We're seeing a spike in active inventory across most geographies.
The number of homes for sale across all geographies was down in April 2022 compared to April 2021 (with the exception of the GTA).
Condo trends are a bit different. While inventory was shrinking a year ago, it's now increasing, but there still seems to be relatively strong demand. We'll have to wait to see if and how that's impacted by future market changes.
For non-condos, inventory in Greater Vancouver and The Fraser Valley is down 21% and 11% respectively, while the City of Toronto is down 7%. The GTA on the other hand, is up 18%.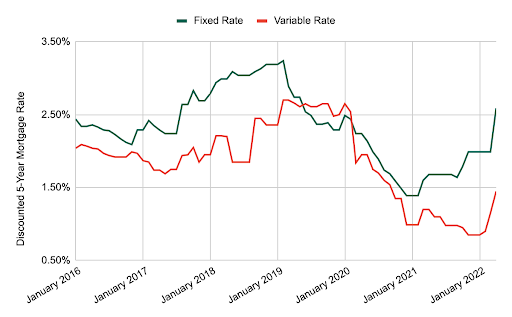 Q: The housing market is shifting more in the suburbs than in major city centres right now. Why is that?
A: There's a lot to unpack here, but the short answer is that the market is correcting itself after two years of unprecedented growth, especially in the suburbs.
During the pandemic, the difference between home prices in city cores and the suburbs dramatically decreased. In other words, while all properties increased in value during this period, homes in the suburbs appreciated a lot more than others.
For example, in January 2020, the price of a detached home in Toronto was 65.2% higher than the average detached home in Whitby (Ontario). But if you fast-forward to March 2022, the Toronto home was only 34.5% more expensive.
Now, that difference is starting to widen again and we expect it to grow more in the coming months. This will most likely be driven by price declines in the suburbs, not by faster appreciation in city cores.
While interest rates are a very important variable to focus on, I think there's been an overemphasis on rates driving the softening market.
Buyer sentiment is also an extremely important factor.
Folks living further from the city are often happy to capitalize on a rising market. For example, a homeowner who purchased a property in Abbotsford, BC, in early 2017 for $690K would have seen their home appreciate by just over 120% in the last five years—to $1.525M.
If this hypothetical homeowner put 20% down on their house and got a 25-year mortgage, they would have over $1.05M in equity built up at the end of the 5 years. And that would give two compelling options:
They may decide to move

further

from the city core to somewhere like Mission, BC, where the average home is $250k cheaper. In this scenario, they may figure that they already live an hour from downtown Vancouver and if they move they would only be 10 minutes further out. In exchange, they would pocket a quarter of a million dollars.

They may realize they always wanted to

move to Vancouver

. With their massive equity built up, they can either make a lateral move in terms of price (exchange their detached home for a townhome, for instance), or, if they have the income to support it, move into a detached property since they would have enough for the down payment.
Both scenarios can conceivably be more appealing than staying put in Abbotsford.
Another thing to consider? Overall demand.
During the pandemic, a lot of people living in city centres—many of whom were confined to small apartments 24/7 because of isolation requirements—desired more space, larger lots, and greater access to outdoor activities. This increased demand in the suburbs.
But as restrictions were lifted, this demand reversed. People once again value living in the city, as it puts them in closer proximity to friends, events, nightlife, and other activities.
Q: What trends have you been noticing around home prices in Toronto and Vancouver?
A: Median home prices peaked around February 2022, and then saw major declines.
Historically, homes in the Toronto and Vancouver cores have higher median prices than the outer areas. But this began to change around November 2020 in Toronto and December 2021 in Vancouver.
In the last few months, home prices in the GTA and Fraser Valley peaked very high around February and then saw major declines. Comparatively, Greater Vancouver and the City of Toronto have been relatively stable in the new year.
Since their February peaks, the GTA and Fraser Valley are down 8.9% and 14.6% respectively, while Greater Vancouver is only down 0.7% – and the City of Toronto is actually up 5%.
While I'm speaking about these trends on a macro scale, not all municipalities are shifting in an even way. For example, in Ontario, Pickering prices decreased by 13.4% from March to April, while in Caledon, they rose by 0.6%. These are technically both classified as "GTA", but on the municipality scale, they've reacted differently to the shifting market.
Q: Many Canadians are feeling uncertain or even pessimistic about the shifting real estate market. Given what the future looks like, what can potential buyers or sellers be optimistic about?
A: The key to navigating the real estate market this year is to make informed decisions before buying or selling.
This isn't specific to interest rates and mortgage rate adjustments. You can look at some of the following macroeconomic factors, which are trending positively, to give you a better sense of the economy and the real estate market, too:
Unemployment is at its lowest point since the 1970s.
Higher employment means more people can save money and enter the housing market. The employment gains have largely been driven by the hospitality and service industries, and workers in these industries are not typically homebuyers—they're usually renters.
That said, increased rental demand generally creates upward pressure on prices as it makes properties more attractive to investors.
Rental inventory is very low relative to the last two years.
Rental vacancy peaked in Q1 2021 at 6.4% and has plummeted to just 1.8% in Q1 2022. Lower vacancy is usually a positive indicator for future home prices because it makes investment more attractive (i.e it increases demand).
Canada has high immigration targets.
Canada is set to welcome 1.3 million new immigrants over the next three years. The majority of these immigrants are likely to settle in the Vancouver and Toronto areas. As these markets are still limited in their supply of housing, this means there will likely be a massive increase in demand that neither city is entirely prepared for.
Both Vancouver and Toronto are still fundamentally supply constrained.
An important metric to monitor, regardless of market dynamics, is 'months of inventory': this is the amount of time (in months) it would take to clear all of the active inventory in a market if nothing new was listed and the rate of sales stayed the same.
Right now, months of inventory is 1.64 in Toronto, and 2.72 in Vancouver. Both are very healthy by historical standards. When factoring in the demand drivers above (and the lack of supply), there should still be some upward pressure on prices and better stability than would exist otherwise.
—
Pricing expert Arieh Dales is one of many trusted real estate and financial experts on the Properly Team who help to reinvent the real estate experience in Canada with tech-powered insights, and customer-centric services. To learn more about or consult our team, visit our About Page, or reach out to us at support@properly.ca.
—
*DISCLAIMER: This article is provided for informational purposes only. It is not an exhaustive review of this topic. The content is not financial or investment advice. No professional relationship of any kind is formed between you and Properly, Properly Brokerage, or Properly Homes. While we have obtained or compiled this information from sources we believe to be reliable, we cannot and do not guarantee its accuracy. We recommend that you consult a trusted professional before taking any action related to this information. Properly is a tech-enabled real estate brokerage that is transforming the home buying and selling experience with AI-powered home valuations and a modern streamlined service. We recommend that you compare and contrast your options, read the fine print, and conduct detailed research into any real estate, loan, and/or investment provider before using their services.*
Properly is a Canadian tech-enabled real estate brokerage transforming the home buying and selling experience as the only service in Canada that helps homeowners to buy before they sell.