The BoC raised interest rates (again). Now what?
Properly
is a different kind of real estate brokerage. It's the stress-free, full-service, modern way to move.
Learn more
TL;DR: The Bank of Canada (BoC) raised interest rates again on September 7th, and expects to announce another overnight rate target on October 26th. Does this have an impact on lending rates? Yes. Does this have an impact on home prices, and how buyers and sellers should navigate the market right now? Sure.
If you're thinking deeply about the real estate market right now, the good, forward-thinking news is: Physical assets like homes remain a good long-term investment. But what about right now? Here, Properly's mortgage and pricing experts weigh in on how to think about navigating the post-rate hike market, and how to make your next real estate decision strategically — and confidently.
What is this strange sensation you're feeling today? It's the tightening of the monetary policy belt (again): the Bank of Canada (BoC) just raised its benchmark interest rate by 75 basis points, bringing it up to 3.25%.
Rate hikes are a hot topic here at Properly. We've been covering the BoC's gradual increases over the past few months (check out our previous coverage on June 1st and July 13th). And now we're at it again, digging into how this most recent increase affects lending rates, buyer and seller behaviour, and the real estate market in general.
Here's the gist of the September 7th rate hike and what it may mean for real estate (and you):
Bank interest rates have increased, which has also caused mortgage interest rates to rise
While the BoC's efforts to calm inflation have been ratcheting up in 2022, their interest rate increases are likely to slow down (the next announcement on October 26th may be the last in this cycle - stay tuned!)
The real estate market has certainly slowed on the back of lower affordability and investor confidence
Homeowners with mortgages coming up for renewal should ensure they have enough 'buffer' to weather the ongoing changes in the current housing market
Sellers should consider resetting expectations, but our experience shows that realistic list prices still drive buyers' interest and sales
For a deeper dive, we asked mortgage expert Muhammad Rashid, and pricing expert Arieh Dales, to answer our most burning questions about what this most recent rate hike means for buyers and sellers (you!) for the rest of 2022.
Q: Another hike: how come?
If you're curious why the rate hikes are still happening, here's a quick recap: it's all a part of the BoC's goal of keeping inflation in check—and balancing out the market (remember: interest rates are the go-to tool to quickly cool down an overheated economy).
Want to know more about 'Why interest rate hikes?' We have you covered. Check out our intel here.
Q: Could fears of a recession put an end to rising interest rates?
We should note here that the inflation rate declined from 8.1% to 7.6% in July, mostly thanks to lower gas prices. Although prices will continue to increase in the coming months, the rate at which they do so has probably peaked.
With higher interest rates and an economic slowdown in the United States (the US GDP contracted during the first half of the year and is likely to contract again in the last quarter), the Canadian economy is also expected to slow down in the second half of the year (the Bank of Canada expects GDP growth to slow to 3.25% in 2023), which should continue to slow down inflation. In the case of a full-blown recession, inflation could even turn negative again: think back to 2009, one year after having reached 3.5%, Canadian inflation dropped to -0.9% as the financial crisis kicked in.
The BoC could soon decide to pause its rate hikes, for this cycle at least, after the October 26th announcement. It's worth remembering that the Canadian central bank was one of the first to act, and did so forcefully to "front load" its actions. In doing this, it reached the point (before other central banks) where interest rates are high enough not to add inflationary pressures on the economy. The BoC targets that level (designated the "neutral" level of interest rates) as being around the 2% mark.
Q: Are we seeing any interest-rate-related trends in the real estate market in Toronto and Vancouver?
1. Activity is low as affordability takes a hit
According to Properly Pricing Manager Arieh Dales, "the most prevalent trend we have seen in real estate related to rate hikes is simply inactivity." In the GTA for example, July marked the 4th straight month with sales declining from the month before. July sales were also down nearly 50% from the same period last year. The same was true in Greater Vancouver and the Fraser Valley.
While home prices have dropped significantly in some places, rate hikes have increased monthly mortgage costs by an even greater margin, so that even if houses look cheaper, they are not necessarily more affordable.
For Dales, "we're seeing many prospective buyers who can manage to put together a down payment through savings (or gifts from family members), but the challenge they're facing is that they either cannot qualify for a large mortgage at the new rates, or they cannot afford the monthly costs of that mortgage. The result of this shift is that many buyers are likely waiting on the sidelines."
2. Investor confidence is waning (for now)
In a market where buyers are shifting to less expensive properties, one might expect condos to perform very well. But condos in general have been facing the biggest challenges throughout the GTA, GVA, and Fraser Valley. This is likely because investors are leaving the market.
Dales explains: "As investors very frequently borrow at variable interest rates, their cost of ownership has skyrocketed in recent months. While rents have also been on the rise to offset this cost, many investors seem to be choosing to sell their investment condos rather than holding over this period."
With the current investor appetite and the higher interest rates, these units are being listed but there are few buyers out there for them. Also, the economics of investment condos in Canada's core markets make even less sense than they used to. "Historically, investors would buy condos and hold them despite them generating negative cash flows," says Dales. "The assumption was always that the price of the asset would continuously rise so individuals could handle negative rental yields in the pursuit of longer-term capital gains."
It seems that many investors have decided to take their gains and wait for better times. Indeed, even at July's prices, these gains are still sizable, even compared to pre-pandemic peak levels observed less than 3 years ago.
Figure 1: Prices are still far higher than their pre-pandemic levels in most cities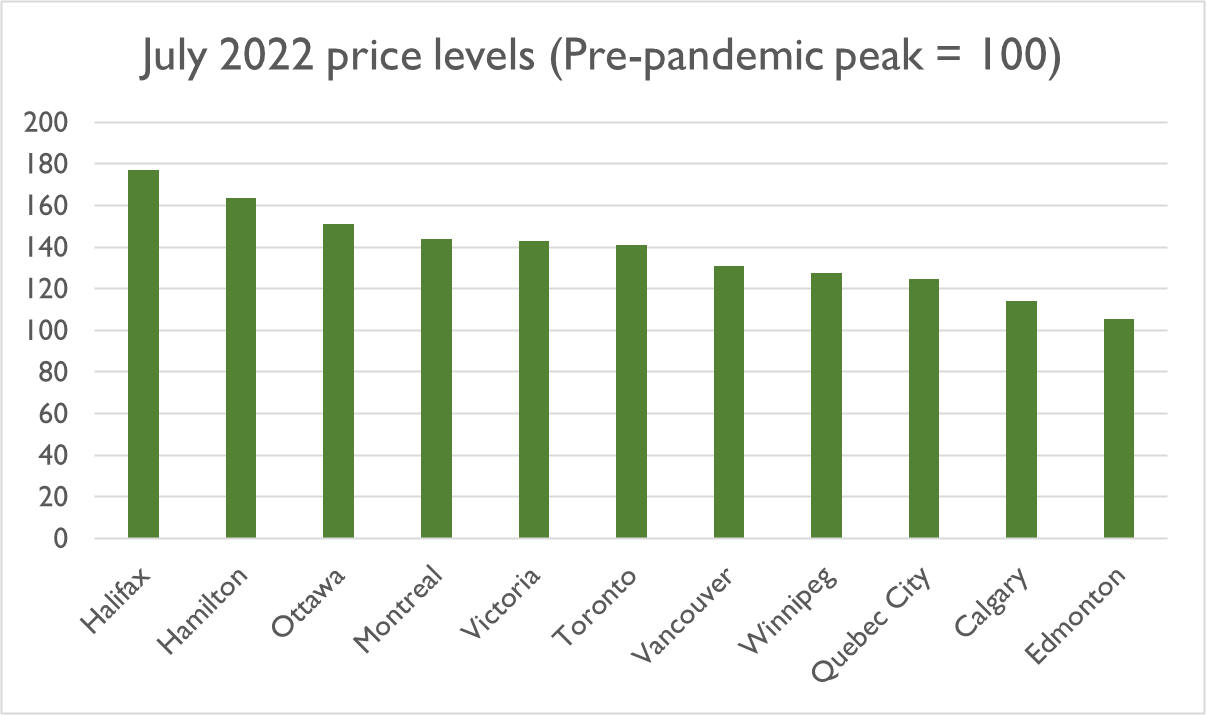 Source: Properly
3. The real estate market is positioned to survive this period (and be okay afterwards!)
While the current trend in interest rates is taking some heat out of the market, Dales notes that "the basic housing supply issues that Toronto and Vancouver have always faced haven't gone anywhere."
So, while there are currently stronger forces than supply that are presenting challenges to Canadian real estate, once they alleviate, the counteracting forces that led to the consistent housing appreciation over the last decade will still be there.
Q: What do the latest market conditions mean for owners, buyers, and sellers right now?
1. Homeowners should ensure they have enough 'buffer' to weather the current housing market
While higher interest rates will impact homeowners with variable interest rates rapidly, they will also impact homeowners who have a fixed mortgage rate coming up for renewal in the coming months.
However, these cases should be limited in the short term, as the majority (80%) of homeowners with a variable interest rate mortgage (16% of all homeowners) have fixed payments (so that when interest rates increase, homeowners will simply take longer to pay their mortgage back). And, only a share of the 40% of homeowners with a fixed interest rate mortgage will come up for renewal in the coming year. More information on these figures can be found in a report published back in June, care of the Bank of Canada (link).
Mortgage expert Muhammad Rashid notes that, "regardless of the interest rate type, homeowners who are coming up for renewal need to do everything in their power to be as financially prepared as possible and have liquid funds ready." The reference interest rate ("Prime Rate") was approximately 2 percentage points lower 5 years ago, compared to the current 4.7%. That means anyone coming up for renewal is likely to see a significant bump in their mortgage payments. In some cases, it could also mean that they no longer qualify for the home they currently live in.
For homeowners who borrowed more recently but haven't closed yet, declining prices pose the risk that the current value of their home has fallen below its purchase price. In some cases, it can lead to a situation of "negative equity," which happens when homeowners owe more to their lender than the value of their home because its price took a hit. In those cases, Rashid notes, "the customer needs to make up the difference which could be 10's or 100's of thousands of dollars depending on the price of the home."
2. Buyers have a lot of power right now
For Arieh Dales, buyers now have the opportunity to "see many properties that are all sitting on the market to ensure they pick the right one for them. On top of that, when it comes time to make an offer, they can include protective conditions like financing and inspection so that they do not end up buying something more expensive than they expect."
However, it seems that many buyers are choosing not to pull the trigger on a purchase yet as they expect home prices to decline further. While this may be true, it's also likely that mortgage interest rates will continue to adapt to higher central bank rates throughout the rest of the year.
Buyers will need to find a balance between waiting for lower home prices and rising mortgage interest rates to find the right moment for them. Waiting isn't necessarily everyone's best move, as there are other factors at play. A solution to that can be to lock a mortgage pre-approval for a longer period. As Rashid confirms, "prospective buyers are currently rushing to obtain pre-approvals for a 120-day period ahead of the expected rate hikes."
3. Sellers need to (really) reset expectations
"What we observe is that sellers fixating on the prices of the past are sitting on the market for far longer and not driving buyer interest," says Dales. "With Properly's own listings, we have seen consistently that realistic list prices drive interest and sales. We have been very successful in selling many of our clients' homes by aligning on fair market value and signaling this value to the market through reasonable list prices."
The basic idea, for the time being, is that if your (similar) neighbour sold for X number of dollars 2 months ago, your home is likely worth less today. Too many sellers are "chasing" the market, seemingly dropping their list price a few weeks too late, consistently. If sellers listed initially at a reasonable price, they likely would have driven a better outcome.
Think long term (and seek the right real estate help)
Whatever your next real estate move is, it's best to enter the market armed with information, and surrounded by the right experts. If you're thinking about buying or selling, schedule a call with our team to help you further understand the current worth of your home, your mortgage options, and how best to navigate this dynamic 2022 real estate market, and the future moves of the BoC.
—
*DISCLAIMER: This article is provided for informational purposes only. It is not an exhaustive review of this topic. The content is not financial or investment advice. No professional relationship of any kind is formed between you and Properly Homes Inc. While we have obtained or compiled this information from sources we believe to be reliable, we cannot and do not guarantee its accuracy. We recommend that you consult a trusted professional before taking any action related to this information. Properly is a tech-enabled real estate brokerage that is transforming the home buying and selling experience with AI-powered home valuations and a modern streamlined service. We recommend that you compare and contrast your options, read the fine print, and conduct detailed research into any real estate, loan, or investment provider before using their services.*
Properly is a Canadian tech-enabled real estate brokerage transforming the home buying and selling experience as the only service in Canada that helps homeowners to buy before they sell.