'List price' means something again: Is it the end of Toronto's "sold over asking" era?
Properly
is a different kind of real estate brokerage. It's the stress-free, full-service, modern way to move.
Learn more
GTA Buyers and sellers are experiencing price predictability for the first time this year
"Toronto home sells for 20% over asking!" "GTA condo sold for $135,000 over asking!" These headlines have become second nature to us for months, as properties of all shapes, sizes, and building types across the GTA have been selling for well over their listing prices (in some cases, for hundreds of thousands of dollars more).
It's no wonder that so many potential buyers are suffering from a fear of overpaying on their next home.
The trend of selling well beyond asking reached such a feverish pitch that it was becoming nearly impossible to predict how high a sale price would go. Why? There are two reasons for it: 1. the popular use of a listing strategy designed to generate multiple offers for sellers; and 2. an increased demand for homes during the pandemic.
But with interest rates rising frequently (this is the Bank of Canada's strategy to temper rising inflation) — coupled with other macroeconomic factors — home buyers and sellers in the GTA are witnessing a discernible correction in the real estate market. If we look closely at the list-price-to-sale-price ratio, we can see something trending: the difference between list price and sale price is shrinking.
For the first time, in a long time, list prices are beginning to mean something again.
A deep dive into the data
But where's the evidence? To find it, Properly dug deep into recent Toronto Regional Real Estate Board (TRREB) data to better understand how much the market has changed since the beginning of 2022.
Using reports from January to August of this year, we looked at the relationship between list price and sold price (on average), and further broke down our findings by home type, which gave us a detailed snapshot of what's really happening in the GTA real estate market.
The difference between list price and sale price reveals who's really in the driver's seat
The difference between list and sale price for GTA homes is shrinking, with month-to-month sale prices getting closer to their original list prices. This is giving buyers a more accurate understanding of what a home will actually sell for, and — dare we say — a sense of predictability in the market.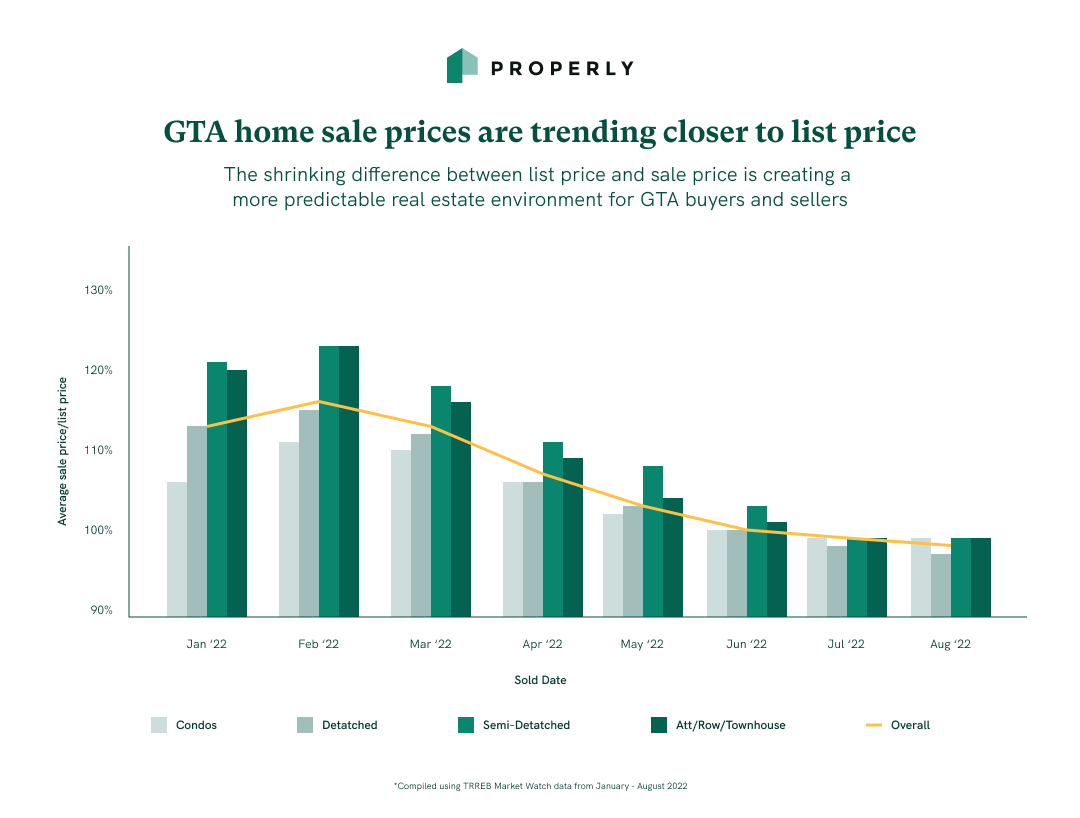 Diane Ciszkowicz, a Properly real estate agent serving the GTA, provides some on-the-ground context: "When a home sells for 100% of its list price, that means it sold for exactly what it was listed for. A percentage above 100 means it sold over asking and a percentage below 100 means it sold for less than asking," says Ciszkowicz.
We can see this trend by looking squarely at the TREBB data: in February, homes were selling for an average of 116% of their list price. Compare this to August, when homes were selling for an average of 98% of their list price.
"In a market where inventory is low and demand is high, prospective buyers are bound to see homes selling for over asking," says Ciszkowicz. "When we shift towards a buyers' market, we tend to see more meaningful and accurate list prices (and therefore smaller difference between list price and sale price) because there's more at stake for sellers who get their list price wrong, and potentially miss out on offers."
A deeper look reveals related trends in home type: semi-detached homes and townhomes saw the greatest variance decrease between February (when it peaked at 123%) and July (when it came down to 99%). That's a net change of 24% in that time frame.
"Sold prices are much closer to the original list price because we're currently in a balanced market. Now, it's easier to predict sale prices and make informed decisions based on data and comparables," explains Ciszkowicz. "In a strong seller's market like we experienced at the beginning of the year, the final selling price was based less off data and more off an emotional response – the competitive nature of bidding wars makes buyers make more impulsive decisions than they would have otherwise!"
Now, home buyers can expect more predictable outcomes and will be able to submit bids that are closer to the original list price.
Buyers are benefiting from slower selling speeds, and a market swing in their favour
The shrinking difference between list price vs. sale price also coincides with a decrease in median sale prices of homes across the GTA — another signal that the market has turned in favour of potential buyers. Here's how the market moved between February and August:
The sellers market was hottest in

February

, when we saw

the discrepancy between list and sale price (116%) and median sale price ($1,205,000) at their peak.

In

June

,

list and sale prices were level (100%)

meaning that, on average,

homes were selling for their list price — which hasn't been the case since June 2020

(when the average SP/LP was also 100%).

By

August

, on average,

sale prices had dipped the furthest below list prices (98%)

and we saw the lowest median sale price ($930,000).
How did this fare for specific home types?
The median sale price of

detached homes

decreased from $1,575,000 (January) to $1,200,000 (August)

Semi-detached homes

median sale price decreased from $1,280,000 (January) to $960,000 (August), and

Townhouses

median sale price decreased from $1,200,000 (January) to $925,000 (August).
Interestingly, condos were the only home-type that saw a larger median sale price in August, compared to the median sale price in January, rising from $695,900 in January, to $755,000 in August.
Without the pressure of a market moving at warp speed, buyers are now able to make more informed and thoughtful decisions. Plus, greater sale price predictability for buyers can help alleviate some of the financial stress and uncertainty often associated with the traditional real estate process.
"What's great is that for the first time in almost 18 months, buyers have the opportunity to do their due diligence before making one of the biggest purchases of their lives," explains Ciszkowicz. "Home inspections and financing conditions are common in most transactions right now, and buyers can feel more confident than ever in making these big decisions."
Sellers aren't being sold short
While median sale prices have dropped across the board, and we're seeing less of the "sold over asking" signs, this market trend isn't necessarily bad news for sellers.
According to Ciszkowicz, when a market is less volatile, both buyers and sellers can benefit.
"When there is as much pressure on the market as there has been this year, it can be challenging for buyers to confidently secure the financing they need to close a deal — especially with the changing interest rates," she says. "This is stressful and potentially costly for both buyers and sellers. With a more honest market, everyone has more peace of mind and confidence that a transaction will close."
Now might be a good time for buyers to get off the sidelines
In a year (and a market) racked with uncertainty, seeing evidence that the divide between list and sale prices is shrinking may offer some comfort and a sense of stability for GTA homebuyers.
"As prices have corrected and become more predictable, this is a much more stable environment to trade in real estate for both buyers and sellers," says Ciszkowicz. "It's also a great time for buyers who are looking to trade up from a starter home to a larger family home because the price gap between the two categories has narrowed in most areas."
The bottom line: it's an honest time for real estate. With the discrepancy between list price and sale price shrinking, and median home prices leveling out, both buyers and sellers can feel more confident in the stability of the market, and feel a sense of certainty before embarking on a big decision like buying (or selling) a home.
Want to know what Toronto-area homes are selling for right now?
You can stay informed on the latest developments in the GTA market by visiting Properly.ca to discover listings and see sold records on Properly Home Search, so you can find out if the homes you're interested in are following the same trend.
*Source: TRREB
-
DISCLAIMER: This article is provided for informational purposes only. It is not an exhaustive review of this topic. The content is not financial or investment advice. No professional relationship of any kind is formed between you and Properly, Properly Brokerage, or Properly Homes. While we have obtained or compiled this information from sources we believe to be reliable, we cannot and do not guarantee its accuracy. We recommend that you consult a trusted professional before taking any action related to this information. Properly is a tech-enabled real estate brokerage that is transforming the home buying and selling experience with AI-powered home valuations and a modern streamlined service. We recommend that you compare and contrast your options, read the fine print, and conduct detailed research into any real estate, loan, and/or investment provider before using their services.*
Properly is a Canadian tech-enabled real estate brokerage transforming the home buying and selling experience as the only service in Canada that helps homeowners to buy before they sell.