How has the pandemic impacted home values in Vancouver? A new report highlights which neighbourhoods have changed the most
Properly
is a different kind of real estate brokerage. It's the stress-free, full-service, modern way to move.
Learn more
Those of us following Canadian housing news already know that the pandemic had a huge impact on real estate - fuelling bidding wars, record-breaking prices, and low time spent on market in some regions.
Right now, with interest rates rising, and buying and selling behaviour changing, we're certainly seeing another shift, this time towards a more balanced market. With so much change happening month over month, we were curious to see how home values had changed over the course of the pandemic overall.
With Properly's Instant Estimate tool launching today in Vancouver (Canada's most accurate free home value calculator), we used its AI-powered technology to take stock of the Vancouver and Fraser Valley regions to see how home values have changed. We compared sold prices of homes bought in Vancouver and the Fraser Valley when the real estate market was most active in 2020 (between July 1st and December 31st) with their current Instant Estimate value. For each individual home, we calculated the difference in sold price to the home's current estimated market value, then provided an average by area.
Here's what we found:
Vancouver home values rose across the board, with east-end neighbourhoods driving the trend
Using our Instant Estimate technology (available for anyone to use who is curious about home values in Vancouver and the Fraser Valley), we found that home values in Vancouver, which includes locales like Hastings, South Vancouver, Killarney, Renfrew, and Kerrisdale, have risen by nearly 18% in the past two years. In 2020, the median sale price of a Vancouver-area home was roughly $920,000, compared to today's median Instant Estimate value of $1.4M.
What does this tell us? In mid-2020, at the cusp of the pandemic housing boom, Vancouver residents were increasingly likely to trade in their downtown properties to embrace more space in the suburbs.
But as the market rebounds and pandemic restrictions lift, many residents are now seeking closer ties to the city's day and night life, which ultimately drives up demand, and value, in the city core. That could be why we're seeing a renewed interest in, and higher valuing of, homes in downtown Vancouver neighbourhoods.
These Top 10 Vancouver neighbourhoods appreciated in value the most
More specifically, the data revealed specific Vancouver neighbourhoods that are trending higher than others when it comes to increasing home values. Comparing the data between 2020 and 2022, we uncovered the top 10 neighbourhoods across Vancouver that appreciated the most in value.
Hastings Sunrise tops this list, seeing a 36% rise in average home value, followed by:
South Vancouver (35%)
Killarney (34%)
Renfrew (32%)
Knight (31%)
This is followed by significant average home value growth in the following neighbourhoods:
Victoria (24%)
Collingwood (23%)
Grandview Woodlands (23%)
Point Grey (22%)
Main (21%)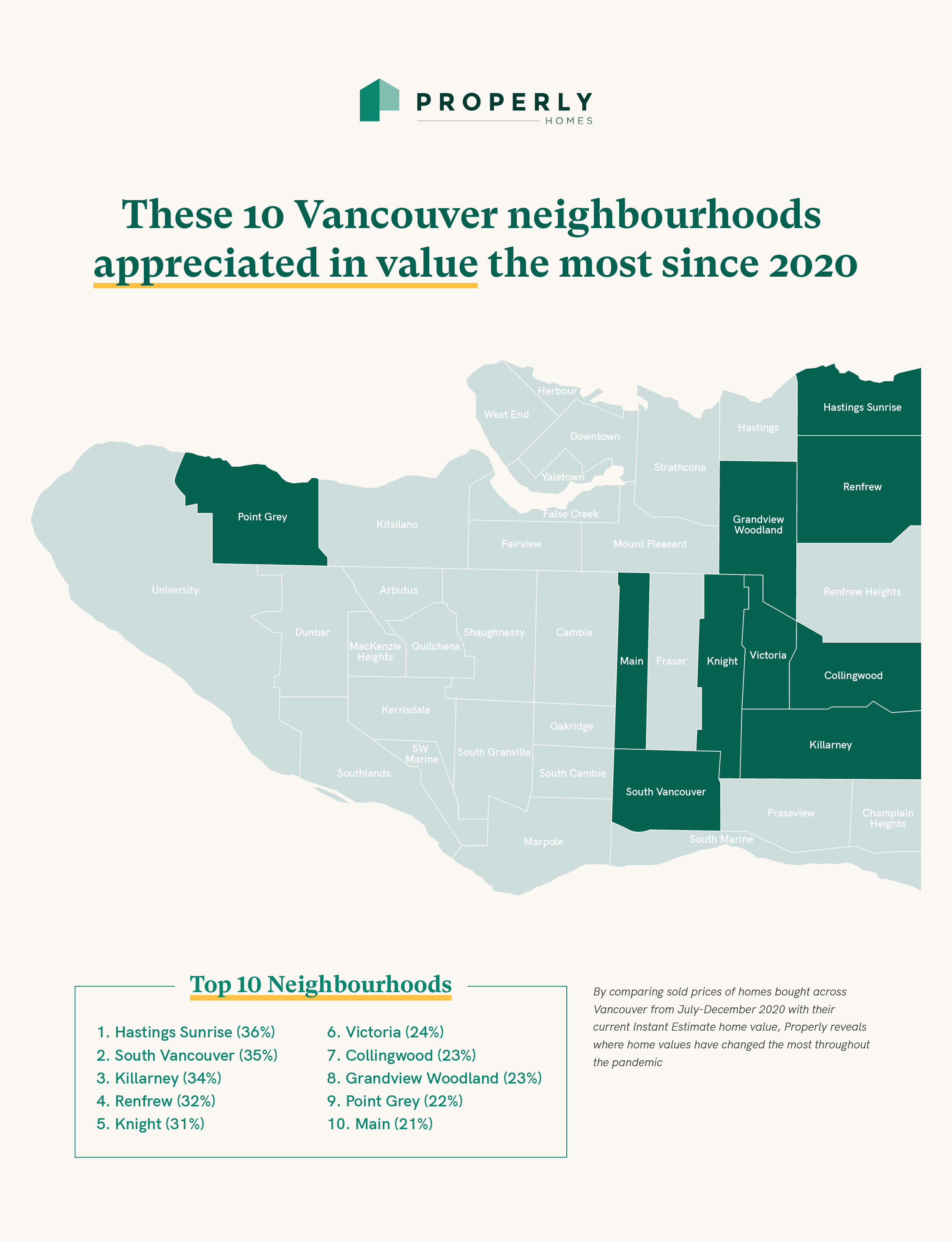 These 4 Vancouver suburbs got a little more popular during the pandemic
During our recent Q&A with pricing expert Arieh Dales, he noted that during the pandemic, the difference between home prices in city cores and the suburbs dramatically decreased. In other words, while all properties increased in value during this period, homes in the suburbs appreciated a lot more than others during the pandemic.
This was also the case in popular Vancouver-adjacent communities like Burnaby, North Vancouver, Richmond, and Squamish. For instance:
Scenic

Squamish

enjoyed a rise in popularity, with

home values in the region appreciating by a massive 40%

and currently sitting at nearly $1.36M.

North Vancouver home values grew by nearly 27%

. The median home price in the 'early pandemic boom' from July-December 2020 was $985,000. Today, if you're interested in a home there, you're looking at something closer to the tune of $1.2M.

The average value of a residence in

Burnaby saw a significant rise of 29%

. The median home price in 2020 was already $730,000, but in 2022, home values are closer to $865,000.

Richmond saw a 25% jump in home values throughout the pandemic

, with the median home value around $958,500 today (compared to $768,000 in 2020).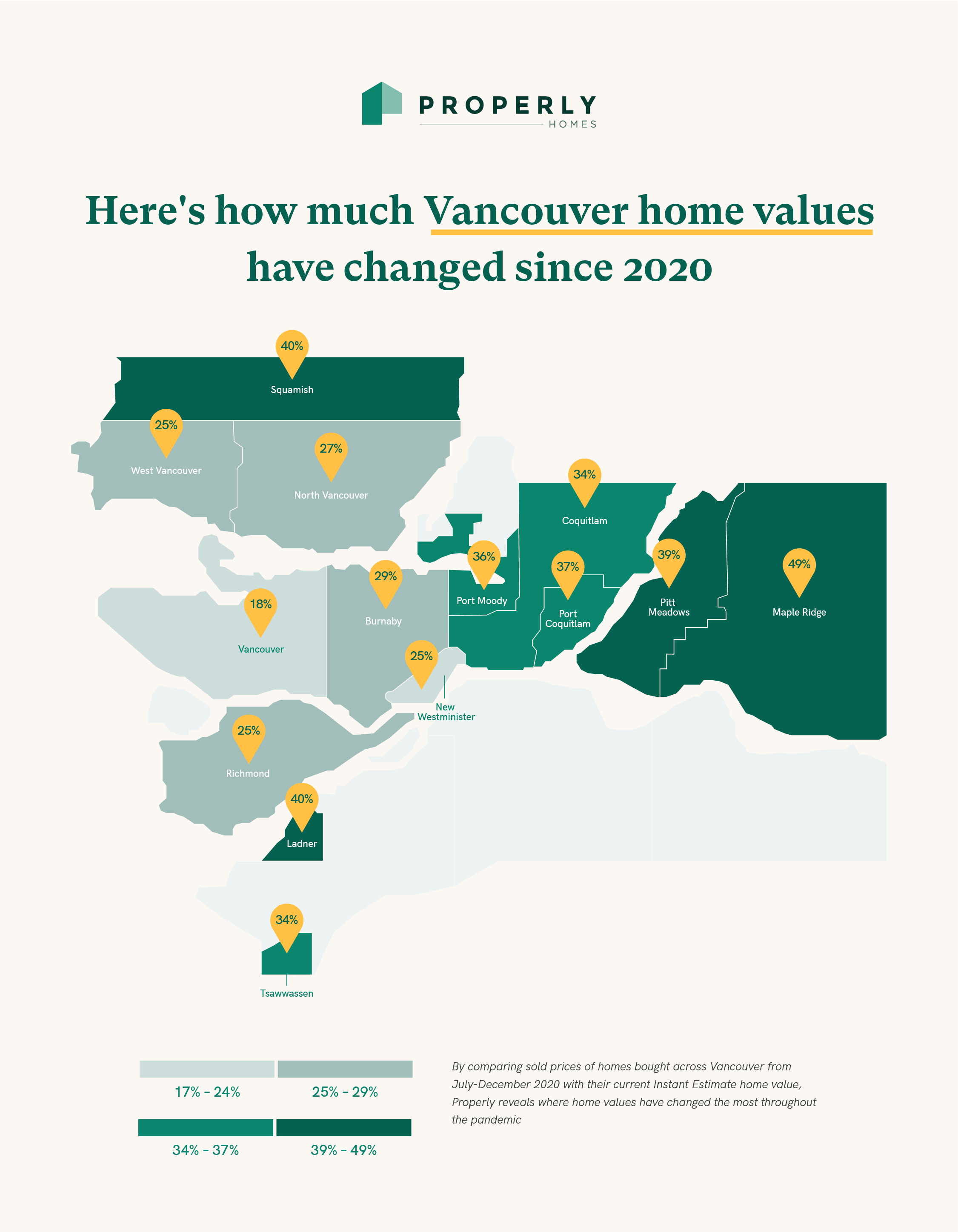 While the suburbs grew in value (and popularity) throughout the pandemic, Dales suggests that the price difference between downtown and suburban homes will likely widen again in the coming months. But we'll be keeping an eye on what happens next.
Now more than ever, it's important to use data-driven real estate tools like Instant Estimate to track the upward or downward trends in the value of your home (especially in light of the two planned consecutive interest rate hikes, Federal budget approval, and provincial elections expected this year). Check back here for more of our data-driven insights into the housing market as 2022 continues to unfold.
Curious about the value of your own home in the Vancouver area? Use Properly's Instant Estimate to get a real-time valuation.
Related report: The top 5 happiest neighbourhoods in Vancouver
—
About The Data
Properly compared sold prices of homes bought in REBGV and FVREB areas from July 1, 2020-December 31, 2020 to their current Instant Estimate value on May 15, 2022. For each individual home, Properly calculated the difference in sold price to the home's current estimated market value using its AI-driven Instant Estimate, then calculated the median by area. Communities with under 30 transactions were removed; homes valued above $3.5M were excluded.
The report includes municipalities and communities where Properly's Instant Estimate is available: Burnaby, Coquitlam, Ladner, Maple Ridge, Pitt Meadows, New Westminster, North Vancouver, Port Coquitlam, Port Moody, Richmond, Squamish, Tsawwassen, Vancouver, West Vancouver, Abbotsford, Langley, North Delta and Surrey.
What is Properly's Instant Estimate?
Powered by artificial intelligence, Instant Estimate factors in historical sold data, proximity to services, customized home facts, and other economic factors to let homeowners in the GTA, Vancouver and the Fraser Valley regions track the estimated market value of their homes. It first launched in the Greater Toronto Area in April of 2021.
By providing custom estimates, Instant Estimate helps homeowners determine the best time to sell, set their buying budget, and track their net worth with a real-time valuation of what is likely their biggest asset: their home.
Properly Instant Estimate accuracy: R-squared = 0.93, MAPE = 6.6%
—
*DISCLAIMER: This article is provided for informational purposes only. It is not an exhaustive review of this topic. The content is not financial or investment advice. No professional relationship of any kind is formed between you and Properly, Properly Brokerage, or Properly Homes. While we have obtained or compiled this information from sources we believe to be reliable, we cannot and do not guarantee its accuracy. We recommend that you consult a trusted professional before taking any action related to this information. Properly is a tech-enabled real estate brokerage that is transforming the home buying and selling experience with AI-powered home valuations and modern streamlined service. We recommend that you compare and contrast your options, read the fine print, and conduct detailed research into any real estate, loan, and/or investment provider before using their services.*
Properly is a Canadian tech-enabled real estate brokerage transforming the home buying and selling experience as the only service in Canada that helps homeowners to buy before they sell.