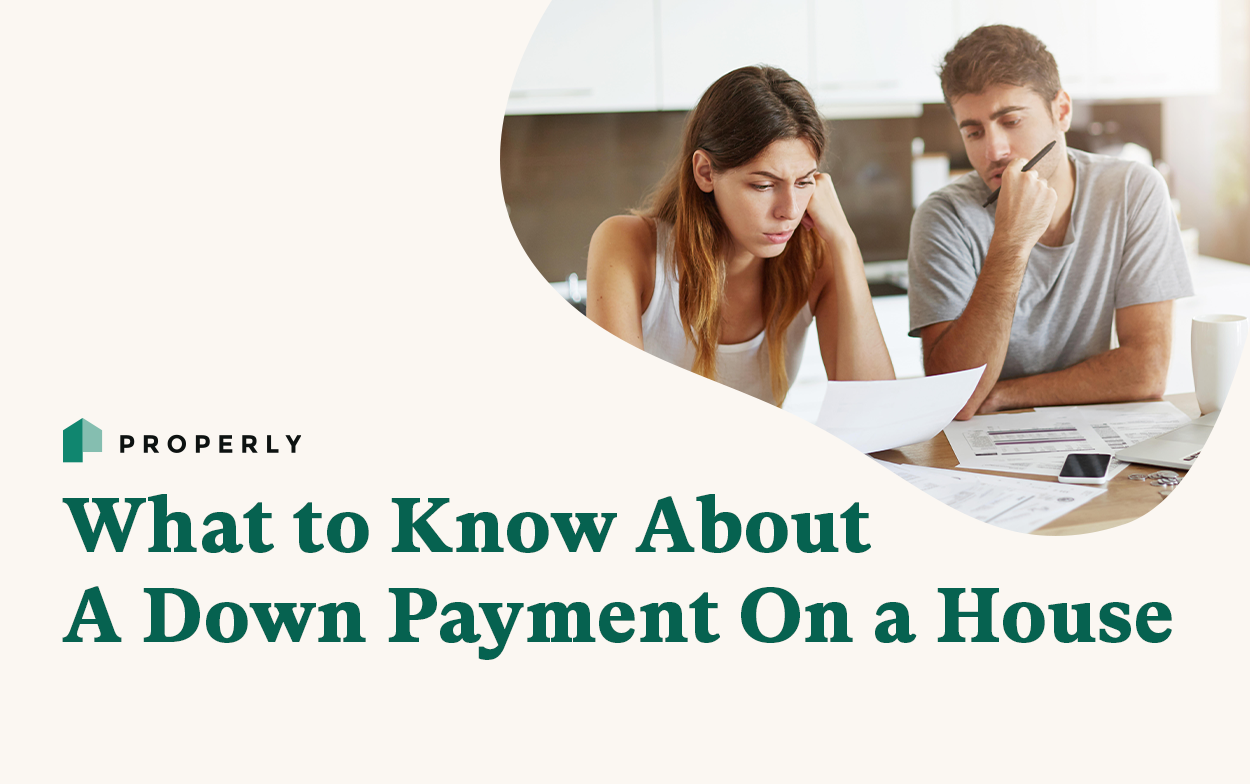 What to Know About A Down Payment On a House
Properly
is a different kind of real estate brokerage. It's the stress-free, full-service, modern way to move.
Learn more
By Urvee
Buying a house is a major investment and one that you'll need to think long and hard about before making. In fact, you'll need to be prepared to spend some time doing research and planning before you can even jump in. One of the first things you'll want to do is examine the amount of money you can afford to put down on the house. Many people get into trouble when they put in too much, and make the mistake of saying yes to the house before they can afford it. Torontonians spend 30% of their income on mortgage payments, making these payments a significant commitment and expense.
In this article, we'll discuss several helpful tips on how you can start saving for a down payment and purchase a home. We'll also give you some tips on how to assess the quality of a mortgage so that you can begin to build a solid financial foundation to ensure financial stability in the future.
Minimum Down Payment
If a house is for sale for $500,000 or less, the minimum down payment is 5%. If the purchase price is between $500,000 to $999,000, borrowers must come up with a down payment of 5% for the first $500,000 and 10% down for the second portion of the purchase price. If the home is over a million dollars, the down payment has to be 20%.
If you put less than 20% down and are buying in an area where interest rates have increased dramatically since your mortgage was approved, you run the risk of being classified as a higher-risk borrower. At this point, lenders must obtain mortgage insurance.
If you put down less than 20%, you should make sure you still have some extra cash for closing costs. You will need at least one month's worth of living expenses as a cushion for unexpected repairs and maintenance.
What is Mortgage Loan Insurance?
Mortgage loan insurance is required for borrowers who put less than 20% down on a property. The insurance protects the mortgage lender in case the borrower defaults on their mortgage payments. Mortgage loan insurance is also known as mortgage default insurance. Sometimes, a lender might require a borrower to obtain mortgage insurance even if their down payment is 20%. This might be the case if you are self-employed or have a poor credit score.
Not all purchases qualify for mortgage insurance. For example, borrowers who purchase a home for more than one million dollars cannot get mortgage insurance. The mortgage insurance company can also turn down an application if the mortgage loan does not meet their standards.
What is the Cost of Mortgage Insurance in Canada?
Mortgage loan insurance premiums cost from 0.6% to 4.5% of the total mortgage. The premium will depend on the down payment. A larger down payment means less insurance premiums. The three companies providing mortgage insurance in Canada include Canada Mortgage and Housing Corporation (CMHC), Sagen, and Canada Guaranty Mortgage Insurance Company.
The mortgage insurance premiums can either be paid upfront or can be tacked on to your mortgage payments. If the insurance is added to the mortgage, you will also have to pay the mortgage interest rate on the premium. Ontario, Quebec, and Manitoba charge provincial tax to mortgage loan insurance premiums. These taxes have to be paid upfront and cannot be added to the mortgage.
Home Buying Programs, Plans, and Incentives
Buying a home is expensive, which is why there are certain programs in place to make it a little easier to break into the market. For example, the Home Buyers' Plan in Canada (HBP) allows borrowers to withdraw $35,000 from their RRSP. This money has to be repaid within 15 years. Before going this route, make sure that you are actually able to repay the borrowed money within that timeframe and consider if withdrawing these funds affects your retirement savings. Failing to pay back the amount can cost borrowers a lot of income tax in the end. Additionally, withdrawing from an RRSP early means you lose out on potential growth while the funds are withdrawn.
First-time home buyers also have their own incentives. The Government of Canada offers 5% of the purchase price of an existing home, or 5 to 10% of the purchase price of a newly constructed home. The incentive has to be repaid within 25 years, or when the property is sold. It can also be repaid at any point without penalty.
Finding the Right Mortgage For You
As you look around your local housing market, you may notice a lot of people are interested in getting a mortgage. You may think that you are already a qualified buyer; after all, you may have a stable income, have saved accordingly, and have a great credit score. However, you are probably not sure whether you have enough money for a down payment, or if you are getting a good deal on a mortgage.
There are many ways to assess the quality of a mortgage, but for most homebuyers, the three most important factors are the down payment, interest rate, and the total purchase price. These numbers will determine your monthly mortgage payment. But how do you know when your home loan is good or bad? How do you know if the loan you're about to apply for is the best? You can ask your mortgage broker or financial advisor for advice.
There are many ways you can save for your down payment and you don't have to live like a monk to do it. It's true that saving money is one of the most important things you need to do before you buy a house. It's also true that you need more than just saving. The three most important elements of your financial plan are taking out a mortgage, keeping it up, and making sure you don't go over budget.
Properly is a Canadian tech-enabled real estate brokerage transforming the home buying and selling experience as the only service in Canada that helps homeowners to buy before they sell.
Buy with confidence.
Sell without stress.
Start your search for your next home with our comprehensive, personalized home valuation.
Get started
Read next
See more posts