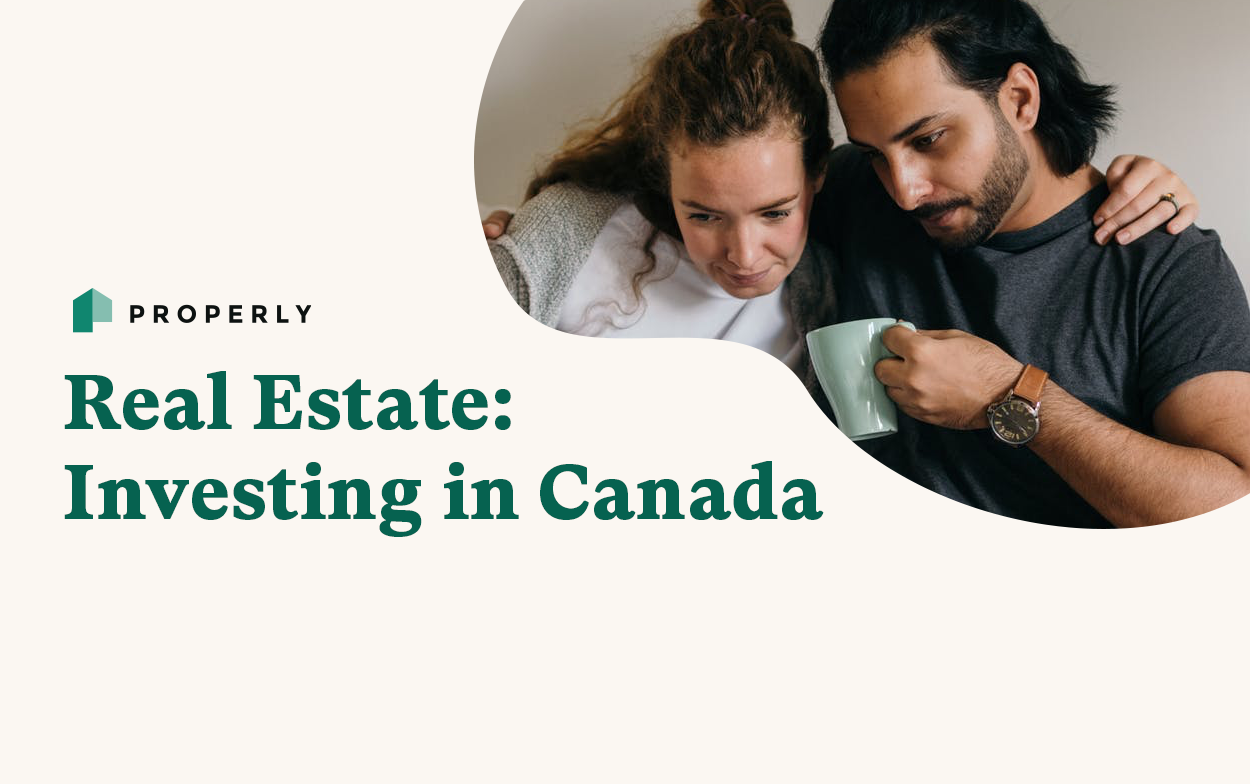 Real Estate: Investing in Canada
Properly
is a different kind of real estate brokerage. It's the stress-free, full-service, modern way to move.
Learn more
By Lucas Samuels
In the last decade, the housing market in Canada has been a tricky minefield of budding opportunities and crushing losses. Overall, the housing market has hit a bit of a hot streak, with sales on the rise and the national average sale price increasing by 15.6% year over year in July 2021. With many foreign investors buying real estate in Canada, it is time for Canadians to look at their local markets and see if investing in real estate is the right move for them.
Mortgage interest rates in Canada are at a historic low; despite the price of some houses in markets skyrocketing, it can be beneficial for people to start owning their own property. By looking at what it takes to own real estate in Canada, you can determine if investing in real estate is the right call for your financial portfolio.
Benefits to Owning Real Estate
There are plenty of benefits to owning your own real estate. If you want to look at how they compare to renting, please check out this in-depth analysis on the pros and cons. Real estate investing in Canada is a little different than comparing buying versus renting. The first benefit of investing is that owning a property can act as a tax shelter for your finances. Gains from your primary residence are exempt from certain taxes like the capital gains tax. This can only apply to your primary or principal residence, requiring you to pay taxes on your recreational properties, such as your family cottage or ski chalet. If you are buying multiple properties as an investment, those additional properties will not be exempt from the capital gains tax either.
Despite this, on the other properties that you have bought, you can still take out lines of credit on those mortgages, so you essentially have brand new ways to access credit. You can also get an amortization of 4% of the price you purchased your property per year, meaning you can see a 4% return from your rates with other properties you own, which can help you pay back additional property costs.
Owning real estate in Canada is especially beneficial because Canada has had a booming real estate market for the past 20 years. Combined with a very low unemployment rate and growing economic environment, the amount of money you can make in just a couple of years off your property can help pay for other properties in which to invest.
Not to mention that by buying a home in Ontario or owning multiple properties, you have a chance to diversify your interests. By diversifying your real estate portfolio, you can use leverage to gain an exponential return on your properties in exchange for additional debt. Debt can be worrisome, but if you own multiple properties and use leverage, you can refinance even more, which can grant you new loans and better rates.
Downsides to Investing
There are some downsides to owning multiple properties in Canada and Ontario. One of the more obvious ones is that it is costly to purchase property in Canada, let alone numerous properties. Housing prices are high, and this can keep first-time homebuyers out of the market for long periods, allowing people already in the market to purchase more real estate. Most properties you buy will require a minimum of a 20% down payment to buy the property. However, the upside to this is that if you can afford multiple 20% down payments, if your property value increases by 20%, you have effectively doubled your money.
Owning more real estate is not like owning and investing in stocks because real estate is not a liquid asset. Geographical factors can affect your property values, and sometimes seemingly random issues can drive down the price of your properties. Crime, unkempt neighbourhoods, street quality, road quality, location to public services, and the presence of a neighbourhood watch are all examples of things that can change the price of your properties, as well as physical problems, including unpleasant traffic patterns, clogged or backed-up sewers, and zoning changes that can cause nasty construction or limit what you can do with your property.
Not to mention the actual price of selling your house. To actually make money off your real estate, you must sell your home, but with fees and other costs of selling, that isn't always a cheap process. If you have an issue with a renter of your property and rent doesn't cover the expenses, you can also lose a fair bit of money from your investment. So when thinking of investing in real estate in Canada, it is not such an obvious decision.
Where Does That Leave You?
Canadian real estate investors are in a difficult position because the ones that do have the money to invest are investing. Due to the housing market performing well, they are making more and more money each year on their investments, allowing them to buy more properties. This closes out the market for first-time investors and people who want to have several properties from which they make money.

So what can you do? If you have the disposable income to invest in real estate and buy properties, now is a very good time to do that. Although it is expensive, the benefits of having real estate assets you can rent and grow in value outweigh the negatives. Feel free to speak to the experts at Properly to help find good real estate to invest in or find some extra money you can use for a down payment. Properly offers a real estate investment calculator that can help you plan to purchase or sell your real estate investments. By working with experts and asking questions, anyone can break into the real estate investing market; you just have to start somewhere!
Properly is a Canadian tech-enabled real estate brokerage transforming the home buying and selling experience as the only service in Canada that helps homeowners to buy before they sell.
Buy with confidence.
Sell without stress.
Start your search for your next home with our comprehensive, personalized home valuation.
Get started
Read next
See more posts